Window and curtain wall systems will eventually need repair or replacement. The glazing components used to seal and support the glass or metal panels have been engineered for long-term performance, but over time, exposure to environmental conditions, thermal movement, differential movement between the window and the structure as well as other factors will take their toll.
Challenges
Gaskets may begin to dislodge and degrade, perimeter and internal sealants may fail. Once that starts, air and moisture entering the building enclosure causes discomfort and disruption for building inhabitants, increasing degradation of other building components and the potential for mold and mildew.
Total window replacement is a major commitment of capital and time. Delays lead to bigger and more costly maintenance and repair problems. In addition, it has been estimated that each CFM of air leakage results in $3-$5 in energy costs so operating costs will begin to escalate.
Repair Benefits
Restoration of window and curtain wall systems is becoming an increasingly more attractive alternative to total replacement. Retrofit measures can achieve performance results comparable to new replacement windows when put to the test – at a fraction of the cost of window replacement and without the disruption. Results have shown substantial energy savings across a variety of climate zones, providing the potential for payback within a few years.
In addition, there are LEED points that may be available for energy efficiency for restoration and the innovative ideas section for new construction or restoration. Tax breaks may also be available for thermal efficiency of buildings in some areas.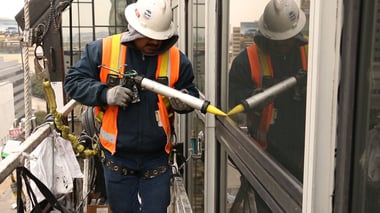 Product Solutions
Frequently, a sealant cap bead is used to renew the appearance and restore weatherseal performance. Silicone sealants can provide a continuous weatherseal and restore aesthetic appeal but are dependent on workmanship and have an affinity to attract dirt. Sealant cap beads are not a solution when the face clearance is small, which can result in high shear forces on the cap bead, or when there is insufficient metal surface contact area for the sealant to bond.
Custom silicone gasket overlays may be used to clad or bridge existing gaskets and/or tapes to restore the weatherseal and provide a "like new" appearance. They can accommodate building movement and have low dirt pick-up. Project-specific prototypes can also be created using 3D-printing technology to aid in the design process.

Restoration of glazing systems to remedy water intrusion, improve energy efficiency, correct improper installation, restore performance lost due to aging components or renew aesthetic appeal requires investigation to develop the appropriate option, which can take many forms.
You can find the best solution by working with a manufacturer who will take the extra time to ensure the application is done correctly the first time and will not require further remediation.