In my territory in Florida, drains and drainage are increasingly becoming an issue when dealing with our waterproofing systems. I've lost count of the times I have asked, "I can give you the best waterproofing system ever created, but without proper drainage, how do you expect it to perform?"
Water management is key to the success of any waterproofing system, so the earlier this is discussed by contractors, applicators and manufacturers in the construction process, the greater the likelihood of a successful and long-lasting result.


Your Drainage Checklist
To prevent future moisture infiltration issues on an existing or new structure and help determine the best solution, ask the following questions:
Are there drains?
This may seem like an obvious question, but it doesn't always happen. See below for a proper drain detail as a starting point.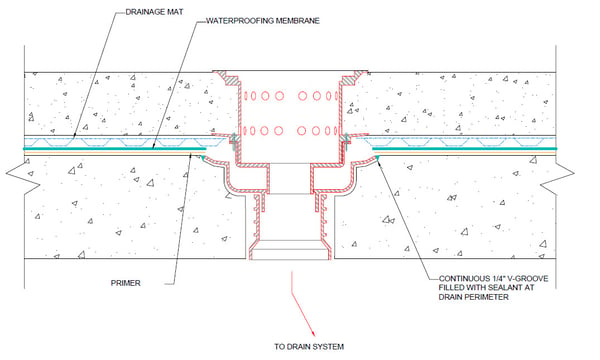 Are there enough drains?
One or two drains for 30,000 square feet "ain't gonna cut it." The opinions of architects and plumbing engineers will vary on having more or less drains than required by building code. For water management, we always want more.
Are they the correct drains?
Planter drains, deck drains, trench drains and more. Which one you select will always depend on the application. Those on the design-build team, including the architect, consultant, and engineer should review the different drain types and consult on proper selection to ensure successful water management and waterproofing system application.
Are drains located in all the correct locations?
If a planter or section of deck surrounded by curbs or walls doesn't have a drain, it needs one. By the same token, more isn't always better. Having "a hundred drains out there," doesn't mean every location is able to actually vacate water. Using a standard bathtub as a reference is an excellent way to help in understanding drains in the field. If your bathtub had its drain in the high side, would you like your kids cleaning up in that water every evening?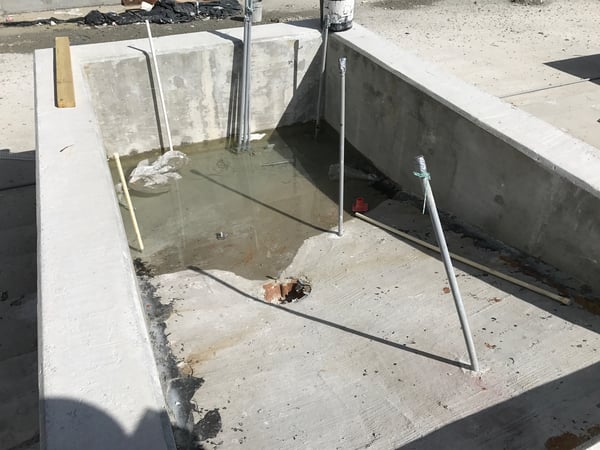 How does water from here make it down there?
Follow good drainage practice to permit unimpeded water flow and allow water to thoroughly evacuate a waterproofing membrane surface. You can do this by confirming the drain details with the entire team. This may include letting the applicator and plumber know that the drainage mat is to extend under the clamping ring so that we are not relying on tiny weep holes to vacate the membrane surface.

Additionally, it is important to ensure that the deck has a downward slope toward a drain. If you are presented with a flat deck with high potential for standing water, consult with a local sales representative or building enclosure specialist before proceeding.
How can we ensure drains are set at the correct height?
This one is the toughest. I've worked with architects who were so intent on ensuring the drains are at the low point on the decks that they incorporated 3" depressed slabs in 5' x 5' squares around every drain on a deck. But if the drain is not set at or below the level of the concrete, you still have the issue. Most times, it is the waterproofing applicator's or manufacturer representative's responsibility to inform the construction team if any drains are set too high, such as shown in the photo below.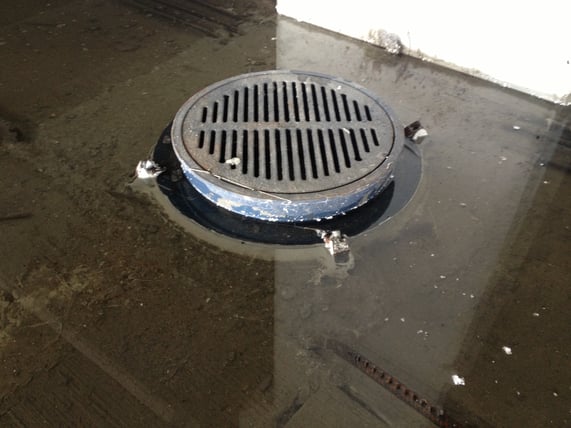 For a split slab type application, do we have curbs or walls to prevent lateral migration?
Drains work best when the water in the area is directed into them. If we go back to the bathtub reference, if there are only 3 sides, the water will flood the rest of the bathroom. Ensure curbs or walls are present to allow for a vertical upturn of the waterproofing system and prevent the lateral migration of water which can lead to damaging moisture infiltration, leaks, or staining.
Once you've identified any areas of concern, work with the design-build team on resolutions. Proper drainage is a critical factor to ensure waterproofing systems will perform as intended with long-term protection.


For more on this topic, take a listen to my interview on the Everything Building Envelope Podcast: https://www.everythingbuildingenvelope.com/current-building-envelope-landscape.htm