According to the U.S. Environmental Protection Agency, on average, 30% of the energy used in commercial buildings is wasted. With the proper planning and design, building owners and managers have a huge opportunity to reduce the operating costs of their structures.
Planning for these cost savings begins early in the process by understanding the purpose and meaning behind building above and beyond code. Once familiar with the best ways to approach building to code, you can begin selecting materials and developing the best plan to create the most energy-efficient building envelope.

From picking the right materials based on climate to understanding how the building expands and contracts in response to its environment, there are several ways to make new and existing building enclosures more energy efficient. Let's learn more about the right way to approach creating building envelopes and how to be proactive with material selection to achieve greater energy efficiency.


Building With Today's Wall Products
When it comes to the selection of wall products for commercial buildings, the choices are limitless. Whether it's dealing with facades, connections, windows, outcroppings, balconies and more, materials are expected to work together seamlessly but it's not always that simple.

To illustrate just how complicated this can be, let's consider the most popular material options for the following types of walls:
Three Types of Backup Walls: Block, OSB, Exterior sheathing
Five Types of Air and Vapor Barrier (AVB): Fluid, self-adhered, SPF, rigid, mechanically fastened
Four Types of Insulation: SPF, extruded poly, poly iso, mineral wool
Four Types of Exterior Cladding: Brick, metal panels, EIFS, cement board
With this list alone, there are over 116 wall configurations available, not even considering the different product manufacturers.

Understanding Sealants and Adhesives
Sealants and adhesives are two building materials that must have long-term performance. There is a broad offering of sealants available including multi-component and one-part urethane, hybrid urethane and silicone sealants and other application-specific products.

While sealants should always meet or exceed building codes, it's also important to know how they perform when exposed to high levels of UV rays during construction and how well they will expand and contract with climate and environmental changes.

Ultimately, you want to select pre-compressed tapes and foams to get a high R-value and an air-tight and water-tight seal. Preformed extrusion sealants are also beneficial for difficult connections that may require high elongation properties. Look at a material's elongation and tensile strength, usually provided by the manufacturer in product data sheets, and understand what the numbers mean specifically for your building and its anticipated movement. Sometimes, bigger numbers don't mean they are better for your project.


What You Need to Know About Air Barriers
Properly selecting and installing the right air barrier will reduce moisture in the wall cavity and will greatly improve a building's energy efficiency. According to the NIST 7238 report, building with continuous air barriers can save a building up to 35% in energy costs.

There are also health and productivity benefits to having the right air barrier in place. By preventing excess moisture into the building that could lead to mold and mildew growth, building occupants experience a more comfortable environment with improved indoor air quality.
What do you need in your air barrier to save energy?
According to R. Christopher Mathis of MC2 Mathis Consulting Company, buildings account for 39.4% of energy usage in the U.S. That is more energy than is consumed by the transportation industry (29%) and other industries (31.6%). But it is possible to reduce this by using the proper insulation and having the right air barrier in your walls.

Air barriers must be structurally supported to withstand internal/external pressures and installed in the correct areas to prevent condensation. Having continuous connections throughout the barrier also ensures that it will perform correctly throughout the life of the building.

To illustrate performance levels, the comparisons below show three different types of wall configurations and how well they insulate: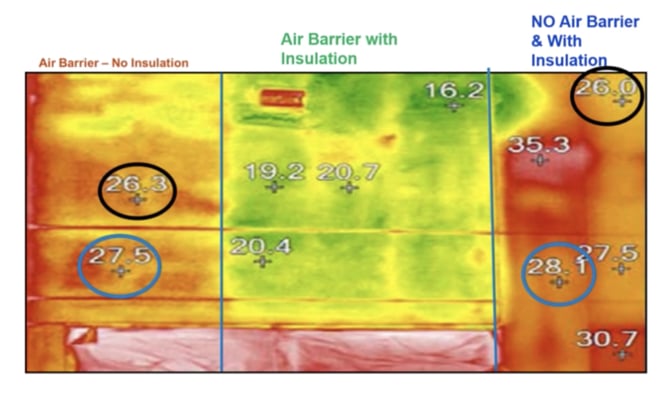 Anytime the insulation is not installed continuously or is broken up with something like a steel stud, the R-value decreases. For this reason, it is also worth noting that a material can have a higher R-value standing alone than its R-value after it is used in construction.

You want to control thermal bridging as much as possible for higher energy efficiency. This is because heat will flow between two bodies if there is a temperature difference between them. For example, HVAC systems are often overworked in both the summer and the winter because they are constantly overcompensating for hotter and cooler temperatures transferring from the outside to the inside of the building.


Effective R-Values and Steel Stud Placement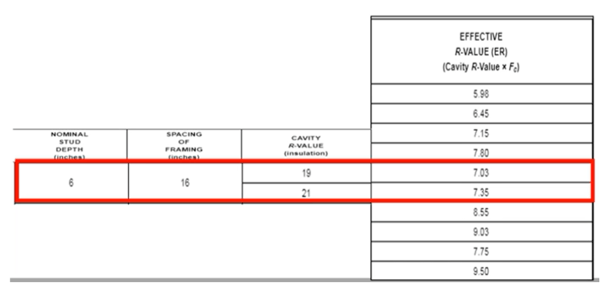 Because steel studs can be conduits for transferring energy, installing continuous insulation outbound of the stud will help ensure that there is no reduction in R-value. It also ensures condensation won't occur within the assembly — instead, it will occur in the drainage plain where your air and water barrier is located.

The example (in red) shows how R-value directly relates to the steel stud placement. Therefore, if you use different types of studs, always consider the reduction in R-value and how you can address that or compensate for it elsewhere in your construction.


Adjusting Builds, So They Are More Energy-Efficient
Let's review a few ways to adjust building methods to create a more energy-efficient structure.
Use Standoffs: The use of "standoffs", adjustable brackets for fastening metal panel veneers to buildings, can reduce the thermal bridging effect to less than 10%.


Adhere to Building Designs: Check and inspect to make sure everything included in the building's drawings and designs is transferred into the actual construction of the building.


Check Sealants: Evaluate the best way to

apply sealants

and ensure they are applied properly to the right places.


Create Mock-Ups: Create mock-ups on-site to test the structure and its connections, especially if there are different facades, backup walls, and windows to see how they will work as a system. This upfront testing will help all teams agree on the best energy solutions for your building. Miniature mock-ups can also be designed to assist with planning by verifying material types, different interfaces, construction sequence and installation expectations.


Review Window to Wall Connections: This is a common place for issues to occur because there are many types of window configurations and installation methods. Windows can also be recessed or sitting beyond the wall. Ensure you have the right flashing materials, joint configurations and bonding for windows. Also, avoid using self-adhered membranes in place of a sealant. While self-adhered membranes are beneficial when used as directed, they don't have the same movement capability as a sealant. Pictured is a side-by-side example of a window sitting off the wall on the left with areas exposed to the elements. The image on the right shows a similar window condition that has used a precured silicone transition and compatible silicone sealant to effectively close any thermal gaps.
Using Documented System Performance
Documented system performance is critical to reference early in the planning phases. This is where designers can work as a team to identify and solve potential problems before they reach the installation/construction phase.

For example, designers will research the impacts of how different technologies will react to seismic activity and other movements on samples of wall openings and facades, air barrier systems, adhesively attached systems and drainage systems.


Choosing Materials That Are Designed To Last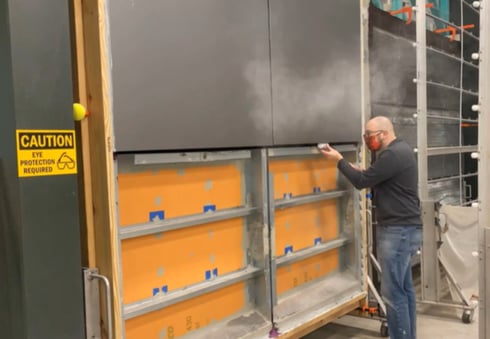 Selecting materials that are resilient and durable can have a big impact on energy performance. To help get you above and beyond code before you even reach the job site, here are some features to look for when designing an air barrier as well as recommended and required testing:
4 Industry-Recognized Requirements of an Air Barrier
Air Impermeable – One of the most important factors to consider, these barriers must be able to control the flow of air and vapor.

ASTM E2178

and

ASTM E2357

are two evaluations that will help determine leakage rates of materials.


Continuous – An air barrier and its accessories must create a continuous surface, securely connecting them to the other adjacent building components.

ASTM C794

,

ASTM C1305

, and

ASTM D412

are all ways evaluate continuity.


Structural Integrity – Once the building is ready for use and is under either positive or negative pressure, it will stay adhered so that it can perform sufficiently.

ASTM D4541

,

ASTM E2357

, and

ASTM E331

are the evaluations and ratings needed to show that you have reached and exceeded codes.


Durable – The materials can perform as intended over the life of the building.


Air Barrier Testing
Below are the five existing material tests to validate the above requirements of an air barrier:
Use Testing To Go Above and Beyond
Using documented system performance data will help show how your building will look and perform. In the design phase, you should also ask yourself more detailed questions. For example, are you approaching your building from the aspect of achieving true six-sided building protection? Are the inter-connected materials thoroughly tested and proven compatible?

All this information is required to meet building codes, but a comprehensive building approach can lead to greater energy efficiency and cost savings. Dig deeper into the meaning and interpretation of performance data and codes and commit to using them as a baseline minimum, not the ultimate goal. Then, take these requirements and move your building beyond the standard expectations so it can perform at its best for the life of the structure.