The off-site construction process has several benefits for building owners, contractors, architects and designers. Compared to traditional on-site construction, this method includes segments of a building being assembled in a manufacturing plant and delivered to a job site, which helps eliminate factors that can lengthen a project's timeline.
Because a lot of the work has been completed off-site, labor times are frequently reduced while the level of quality control increases for the overall project.
Project timelines are also more flexible and often shortened because manufacturing can be done indoors anytime of the year, so building segments will be prepared and ready for construction when needed.
Let's dive in to see more about the ins and outs of off-site construction connections and installations.


Considerations When Connecting Modular and Off-Site Construction Components
Off-site construction is commonly seen with new construction, as builders look to get the building completed on a shorter timeline with fewer trades involved in the process.
For existing buildings undergoing renovations, the off-site process is frequently utilized for replacement of the facade. Prefabricated cladding saves time and money and keeps building occupants from being displaced during the construction process. This is especially useful for restoration of hospitals, hotels, office buildings and other multi-use buildings. It is also easy to match or duplicate the appearance of an existing façade using this method.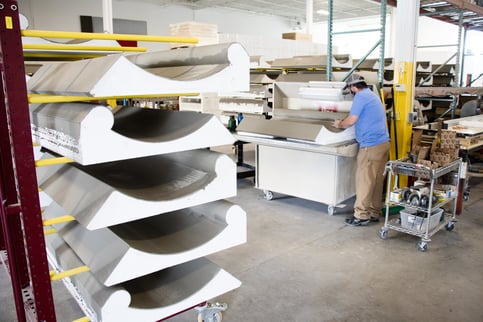 There are a few important things to consider when connecting modular components:
Does your building meet code? Retrofit projects must ensure all codes have been met to make the building more efficient after retrofitting is complete.

How will dissimilar materials work together? Each project will have different needs based on how materials will work together. Dissimilar materials, joint movement and size will all dictate the backing material, sealant technology, pre-compressed foam tape, mechanical joint and flashing. Know the joint size and depth of your engineered panel connections.

Do they require single sealant joints or double sealant joints?

What is the anticipated movement at the floor line and how should you seal dissimilar materials at this level?

What are the common causes of failures in connections? Typically, corrosion, pullouts and under-engineering will be the cause of connection failures.


Connection Processes Based On Location
How materials connect with each other will be the deciding factor when it comes to product selection. Knowing everything you can about joint size, movement and your materials is critical, especially when it comes to the compatibility and adhesion characteristics of dissimilar materials.
For example, in a roof-to-wall detail, the roofing material may be an asphalt-based product and the wall material may be a continuous insulation (CI) system. The sealants for the CI system may not be compatible with the roofing system, so a metal flashing will need to be installed between the two systems.
This allows the CI system to be sealed to the flashing and the lower leg of the flashing directs moisture/water away from the backside of the roofing system to the face of the roofing system.


Popular Types of Joints and Connectors
Not using a joint or connector puts your building at an increased risk for water intrusion and detachment of the façade panels or other modular components. Here's what you need to know about choosing joints and connectors:
Joints
Silicone and urethane sealants are both very popular joint options. Silicone is more expensive than polyurethane sealants, but provides greater movement capabilities. It is also important to note that silicone sealants are not paintable, while urethane sealants are.

Urethanes are often the cheapest option, but they are only guaranteed to withstand certain levels of expansion and contraction. It is recommended to use a compressed foam tape with urethane sealants for an added layer of protection that will act as a secondary seal in case of failure.

When dealing with larger joints, it may be required to use pre-compressed foam tape, pre-cured silicone or urethane sheet or a mechanical joint with metal. A manufacturer can help identify the best solution depending on the anticipated movement.


Connectors
Choosing the right connectors is dependent on the project and how they are being attached and used. For example, modular panel systems can be adhesively attached or mechanically attached. All connectors are typically designed and engineered to exceed maximum loading capacity.
As a rule, consider using both primary and secondary joints for additional protection.


Methods For Protecting Off-Site Construction After Installation
Because there are several areas for these modular units that need to connect to make the unit whole, off-site construction often uses more transitions compared to traditional construction methods.
Eliminating Thermal Breaks at the Roofline
While It is hard to eliminate thermal bridging altogether at a transition like a roofline, you can minimize thermal breaks by continuing the insulation above the roofline for the parapet. You can also separate them and add a CI system over the top of the roofline — it all depends on the roofing system being used.
Making A Continuous WRB From Panel to Panel
Panels that have an air or weather-resistive barrier (WRB) integrated into them are made continuous by applying a liquid or sheet-applied (peel and stick) air barrier. The seams are detailed with a compatible silicone or urethane sealant, depending on contractor preference.


Choose Off-Site Construction for Stronger Builds
While using prefabrication for façade restoration poses additional panel to panel joints to consider in the design/build process, understanding your product options and the right way to manage connections will make off-site construction your best choice for a stronger, higher-performing building. You will also have the benefits of saving time and money and increasing the overall level of safety and quality control on your site.
To ensure you're achieving the best offsite construction possible, rely on a manufacturer that has products that can be specifically engineered for use in connecting modular and offsite construction components for your projects.