Building leaks can be blamed on aging glazing components, incompatible products, extreme movement and more. Pre-cured silicone extrusions have emerged in the new construction and restoration markets as an effective solution for many of these challenges.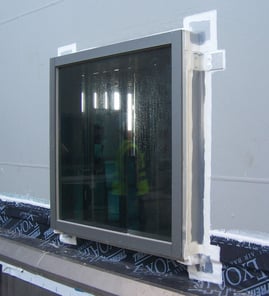 Continue reading to discover the most common applications for extruded silicone sheets in commercial construction plus two unexpected scenarios where they can be successful.
What are Silicone Extrusions?
Silicone extrusions are thin, flexible sheets of silicone that can be manufactured in virtually any length or width. Their UV- and tear-resistance, durability and design customizations enable them to span difficult connections and perform for over twenty years. Pre-cured silicone sheets can have up to 200% elongation which allow them to work in a variety of situations, especially those where a high degree of movement is anticipated. Moreover, application is easy even with dissimilar materials. Simply overlay the extruded silicone sheet and embed with silicone sealant on both sides of the joint.



Flexibility for Any Application
The 7 most common applications for extruded silicone sheets include:
Parapet wall connection
Providing continuity between adjoining assembles/systems in a compatible, structurally-sound and durable manner is becoming increasingly complex in today's construction. Cured silicone extrusions can often be an ideal solution to transition the area where the wall or glazing system meets the roof parapet
Transition seals
Extruded silicone can effectively span changes from one system or material to another, which can occur in multiple areas from the foundation to the roof. It has exceptional elongation, recovery and workability around intricate geometries.
Aluminum window seals
Aging aluminum windows can often be restored by applying silicone extrusions at integral locations or by replacing older aging rubber components.
Lock strip glazing systems and skylights
When glazing components like lock strip gaskets and sealants deteriorate, it can be difficult to tear out the old system and replace it. With silicone extrusions, you can create a water-tight seal directly over the existing glazing materials, minimizing disruption and saving time.
Metal-to-metal joinery
Whether on the façade or roof, silicone extrusions can effectively bridge most metal to metal joints.
Connection from the wall to a window or other fenestration areas
As energy efficiency in construction improves, providing functional performance at the window-to-wall interface is critical and especially difficult in cavity wall construction. Issues at these transitions frequently compromise the integrity of the building enclosure, so extruded silicone can be used to seal these vulnerable locations.


EIFS joints
Extruded silicone can have less stress at the bond-line which makes it well suited for sensitive substrates like EIFS. You can repair the damage easily without having to remove the failed sealant.
Unexpected Uses
Extruded silicone can also be used in some unexpected ways for water-tight repairs:
Slip joints, splice sleeves or lap joints:
Extruded silicone can accommodate the movement at splice sleeve locations of the two horizontal overlapping sections of aluminum. Applying a sealant at these locations is often difficult and, once cured, the sealant typically cannot handle the joint's movement. The pre-cured silicone sheets are a higher-performing alternative.
Connecting the curtain wall system perimeter to the concrete structure or changes in varying glazing systems:
These conditions are frequently completed using a peel and stick membrane (often with an asphaltic adhesive), which has limited movement and is not typically compatible with surrounding components. An extruded silicone sheet easily overcomes these movement and compatibility challenges, with the silicone sealant connecting it to the precast panel on one side and the metal panel connection on the other, successfully joining the dissimilar materials.

See how this condition was successfully achieved on the expansion of the University of Texas Southwestern Medical Center.


Customization Options
If you have a particularly unique scenario that requires a special color, texture, thickness or width, a custom solution may be your best bet. Extruded silicone sheets have the design flexibility to be customized with ribs, corners, or notches to bend around corners for a variety of configurations.


Prior to extruding the overlay material for production, 3D printing technology allows facility managers and owners to get a prototype in order to review aesthetics and fit prior to approving the release of materials. Read the Glazier's Guide to 3D Printed Prototypes for details on how 3D printing assists in designing customized glazing restoration solutions.


When you need a high-performance solution to span virtually any design gap, consider pre-cured silicone extrusions for maximum durability and flexibility.