As we transition into spring, construction projects across the US and Canada will be subject to Mother Nature's unpredictability. Deck coatings, in particular, can be sensitive to temperature, moisture, and other conditions out of your control. But there is a lot you can do to minimize risk and ensure the longevity of your application.
Here are some common deck coating mistakes I see in the field and tips to avoid them.
1. ICRI SURFACE PROFILE
Concrete surface profile (CSP) is recommended to be an ICRI (International Concrete Repair Institute) concrete surface profile of 2 to 4.
If the concrete is not within CSP 2 to 4 or the manufacturers recommended profile, it should be repaired using an appropriate patching mortar or sand-filled epoxy.
If the applicator fails to have the concrete repaired, the coating may be applied too thick, leading to bubbles, blisters and pinholes, and the possibility of longer cure times with respect to single component systems. To help determine your concrete's profile, I recommend using ICRI's concrete surface profile chip set for comparison.


2. SUBSTRATE PREPARATION
When prepping the deck to be coated, applicators either shot blast or grind the deck to get the proper concrete surface profile.
It is important to remember to pressure clean the decks after this process to remove any laitance or dust.
If a coating membrane is applied over dust, it will not have proper adhesion. Dust creates a bond breaker, forcing the coating to stick to the dust particles, not the deck itself.
This barrier could cause the membrane to lift from the deck and require a complete reapplication of the coating system.
3. DRAINS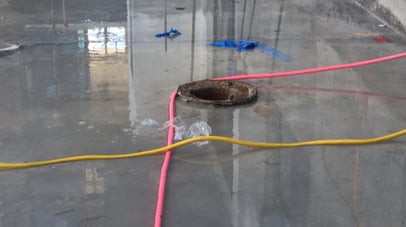 Far too often, I see drains that are above the deck surface.
If it is more than 1" inch higher than the deck, the water will only drain once the water reaches that inch in depth.
Ponding water can be very detrimental to the success of your deck. Moral of the story: drains must be flush with the concrete deck.

4. PROTRUSIONS
It is common to find exposed rebar or rusty nails/tie downs protruding from the deck surface.
Any defects like these must be removed or covered with epoxy primer prior to application of the deck coating. Otherwise, the rust can bleed through and compromise the adhesion of the coating system.

5. MIXING
Proper mixing of coatings is extremely important.
If applicators are not taking the proper mixing times seriously, it can affect the dispersion of colors, as well as the cure of the products.
Mixing instructions can be found in the application instructions on the Tremco website.
IN CLOSING
Construction products are only as good as their application. This goes for the cleaning and preparation process as well.
These initial steps are most important to ensuring the long-term success and warranty of a deck coating system. If you have questions about proper substrate preparation or coating installation, please call your local Tremco sales or technical representative.