As a result of recent global supply chain disruptions, the raw material used for producing silicone sealants in commercial construction is facing a serious shortage. Therefore, more and more building material suppliers are offering alternative options to continue business operations without compromising on sealant quality.
Why are the prices of silicone sealants rising?
A major imbalance between global silicone supply and demand has resulted in significant raw material shortages and unprecedented inflation in a matter of months. This supply disruption is predicted to last through to the first half of 2022. The cause of this global silicone shortage can be attributed to:
Prolonged outages at major silicone producers in 2020 and 2021.

Power-rationing orders in China heavily impacting silicon metal production - an energy-intensive production process (China produces 70% of silicon metal globally)

There has been a limited number of major investments in silicone production outside of China resulting in constrained global raw material production and supply.

Labor shortages – Tightened border controls due to COVID-19 have triggered labor shortages because of the constrained inflow of migrant workers, directly increasing manpower costs.

Severe logistical delays - Extended transit times, inadequate transportation capacity (shortage of drivers, ships, containers, etc.), and manufacturing lockdowns have led manufacturers and suppliers to increase their product prices to buffer these risks.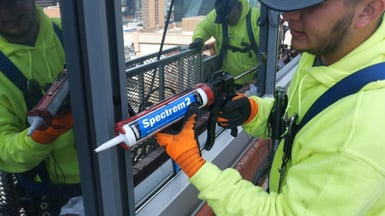 The combined impact of these complications has significantly restricted the availability of silicone raw materials and increased costs for manufacturers. Therefore, suppliers are encouraging the use of silicone alternatives wherever possible in various building applications.


How do I choose a suitable alternative for silicone sealant?
It is important to ask the following questions before deciding to substitute a silicone sealant:
Will the alternative sealant be applied for structural glazing?

Will the alternative sealant need to be weather / UV exposed?

What is the expected movement capacity required?

Will the finishing be covered or not?

The answers to these will dictate the best solution. Discuss these items with your product manufacturer to identify their suggested alternatives.



How do I repair a failed silicone sealant joint without silicone?
There are a couple of ways to repair a failed silicone sealant joint with polyurethane technology. However, since polyurethanes will not develop adhesion to cured silicones, the existing silicone sealant would need to be fully removed. If the joint is located within a porous substrate, this substrate will likely need some mechanical abrasion to remove as much of the existing sealant as possible. If the sealant joint is in a non-porous substrate, the sealant should be cut out as close as possible to the bond line. Sanding with a fine grit sandpaper may be needed to remove any silicone that is left within the joint.

When applying the new polyurethane sealant joint, it is recommended that the polyurethane extend ¼ inch (6.35 mm) onto the substrate on either side of the joint. This will ensure the material is bonding to fresh substrate.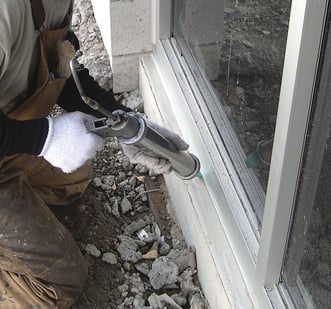 Can polyurethane sealants replace silicone sealants?
Yes and no. While a popular choice for both new and renovation projects, polyurethane sealants will not develop adhesion to cured silicones, so they cannot be used in all instances. Polyurethanes are often employed in horizontal joints or non-sagging vertical applications and are available in single and multi-component formulas. When considering using a polyurethane sealant as a direct substitute to silicone, consult with an industry expert who can advise on the correct solution.
Can hybrid sealants be used instead of silicone sealants?
Combining the benefits of high-performance polyurethane and silicone chemistry, hybrid sealants have the durability and paintability of a polyurethane sealant, with the weathering and UV resistance of a silicone sealant. Hybrid sealants are a great option when needing an alternative to standard silicone sealants.

Conclusion
It is unclear when silicone sealant supplies will become more stable or return to their previous availability. In the meantime, consider utilizing polyurethane or hybrid sealant technologies instead. These products are not always an easy swap depending on the project-specific application, so always following the guidance of the product manufacturer to ensure compatibility and long-term performance.