Designing structures to withstand extreme movement, even the intense effects of seismic events, can be a challenge. The best way to help ensure performance in these conditions is to build and test a mock-up prior to finalizing the design details and moving forward with building construction. Learn more about the benefits of mock-ups here.
One California architect designing a building to be constructed in an area affected by seismic activity, and mindful of the state's seismic safety standards, turned to Tremco's Building Science Laboratory for help validating a proposed wall design. The goal was to confirm the design would withstand significant movement while retaining an air and watertight environment and helping protect building occupants in the event of an earthquake.
At the test facility, a wall mock-up was constructed using the proposed building materials and then subjected to air and water pressures beyond the normal ASTM testing requirements, as well as horizontal movement, to determine what level of stress the system could handle.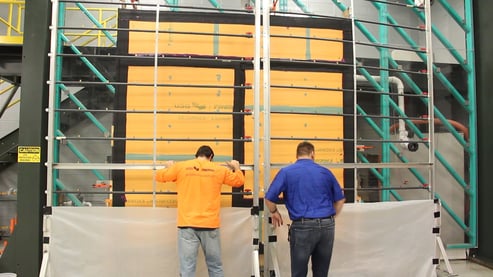 Construction:
To simulate seismic movement, the 10' x 10' test wall was constructed with four panels, two of which were hinged for independent movement of ¾" in both directions for a total 1.5" differential.
The walls were constructed using gypsum sheathing boards with a pre-applied air barrier. A urethane sealant was applied to detail the fastener heads and at the non-moving panel to panel joints. A sheet-applied air barrier was installed on the edges of the wall system which sealed to the test buck.
A flexible extruded silicone sheet was installed at the panels with movement with a compatible silicone sealant. This panel to panel connection was of utmost importance to the architect.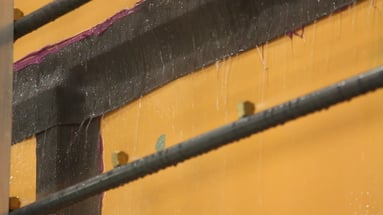 Tests Conducted:
ASTM E283- Determines rate of air leakage under specified air pressure differences
ASTM E331- Tests water penetration by uniform static air pressure difference
@ 600 pa (12.5 psf)
@ 750 pa (15 psf)
@ 860 pa (18psf) for 30 minutes
Note: between each air / water test, the buck was taken off the wall and the panels physically displaced numerous times to get the 1.5" differential and then reset into the wall for air and water testing. There is no ASTM for this but it was a critical part of the testing.
Results:
After testing it beyond the ASTM standards, the team investigated the system and found it had not been comprised and had no air or water infiltration. The success was determined by the compatibility of the products and their ability to adhere to each other and yet still maintain their own flexibility and long-lasting performance.
This product solution is now a recommended air barrier and façade system for construction in California and other areas with frequent seismic movement.
Interested in having your design tested for seismic or other performance requirements? Click here for more information about Tremco's Building Science Laboratory.