Prefabrication is undoubtedly changing the way construction professionals specify and build. While some GC's and design professionals fear the process is complex, costly, and/or time-consuming, even more are enjoying its benefits, especially in terms of panelized EIFS façades.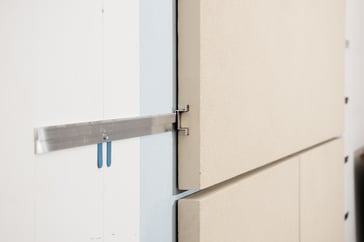 Compared to traditional field-applied EIFS, panelized EIFS are designed, detailed, engineered, and sealed around the perimeter as a complete wall assembly, including framing, sheathing and cladding material, and then delivered on site, ready to be hung. [Click here to learn more about the different types of prefabricated EIFS panels.]


In-plant or in-field?
Although prefabricated EIFS panels will not work for every project, there are many reasons that this route can be advantageous to all the parties involved. Below are four of them, along with some considerations to keep in mind:


Speed of construction
Generally, prefabrication will speed up the installation on the exterior of a building from 25 to 40 percent. This means quicker critical path shell dry-in so that interior trades can get to work sooner. And revenues can begin to produce faster for the building owner than with traditional, field-applied system.

Field-applied EIFS can be impacted by bad weather, which can delay installation or lengthen cure times. Skilled labor shortages, exacerbated further by the Covid-19 pandemic, can lead to contractor availability challenges. Using a panelized wall system allows you to avoid this type of hold-up; if needed, prefabrication can be done in areas of the country where skilled labor is more plentiful.

Construction of the panels themselves is based on a prescribed, efficient workflow with consistent productivity day to day. The panels can arrive ready to attach to the building and can be scheduled to suit the just-in-time process. Only the most severe weather will impact panel installation, and in most cases, construction can proceed even in the coldest winter temperatures.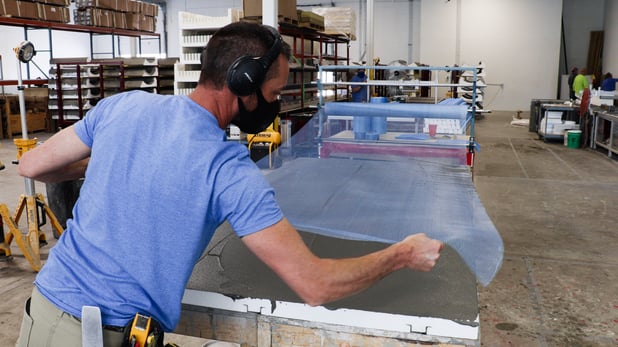 Keep in mind: Panel construction should be about 50 percent completed, depending upon the size of project, before you start to hang the panels to make sure that you can keep that workflow going properly. You'll need to have sufficient area to be able to lay the panels down and then to store them for the application of the project.

Improved safety and reduced job site congestion are added benefits here – overcoming issues of limited access or staging areas on the project. For occupied structures, panelized systems can be installed with minimal disruption to building tenants and the surrounding area.


Quality Control

Panelized systems offer easier, more consistent quality assurance. Typically built indoors, the materials are applied in a controlled environment, not subject to great variations in temperature and humidity, and not impacted as much by individual applicator skill level.

Additionally, the architect and owner can come in and physically inspect the panels at eye-level rather than requiring scaffolding to assess the exterior of the building. The exterior walls are also much easier to maintain precise arrises and dimensions when constructed in the plant.

Keep in mind: In some cases, panels can be constructed outdoors or on the jobsite. Although we tout manufacturing panels inside a plant, there are many cases where panels are effectively fabricated outside. For example, in Las Vegas the majority of the major casinos are panelized, but there's not a panel plant in Las Vegas. In this situation, where they don't have to contend with inclement weather, the contractor/fabricator sets up a "plant" on a nearby lot where the panels are built. When faced with extreme heat, they'll put lights up and work at night.

Depending on the project location, complexity and performance requirements, you may prefer to work with a fabricator that has dedicated indoor space and set construction process. Consider choosing an EIFS manufacturer that can refer you to a skilled fabricator through an established partner network.


3. Design Flexibility
Prefabricated EIFS wall assemblies can be designed in custom sizes and shapes with multiple finish options, whether it's a louver design or a cut stone look you want to achieve. Limestone and granite finishes are available as well as stucco and insulated masonry veneers which offer the look and feel of clay brick but with a wide range of cost and performance benefits. Metallic finishes that resemble aluminum composite panels also are readily available. Wood grain is another on-trend EIFS finish option. You can do multiple finishes on a façade and incorporate virtually any type of geometric design imaginable. Plus there's the major advantage of having the continuous insulation built in.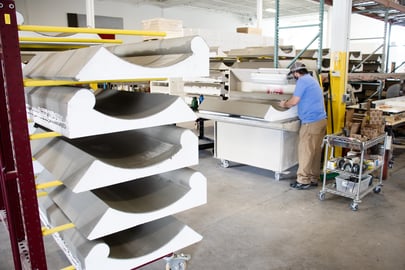 Using EIFS panels allows many finish options but just one source and one contractor to deal with for the entire exterior of the building. By fabricating the panels in plant, you gain significantly more control over design, execution and overall quality.

Keep in mind: When designing a building with prefabricated panels that are constructed off site, the maximum size can be dictated by the over-road trucking limitations for width, length or height. This can usually be worked around in most designs. If larger sizes are needed with critical dimensions, then a consultation with a fabricator may be in order. In general, the larger the panel, the better because the faster you can close in the building.

Panel sizes for either onsite or offsite fabrication can also be limited by such things as crane lifting or erection access and capabilities for size, weight, and space availability. Nonetheless, for the most part, prefab is suited for a wide range of sizes, shapes and configurations.


4. Cost savings

A panelized EIFS solution versus field-applied methods saves money for the contractor due to a reduced construction timeline and the associated labor costs for installation. With a panelized system, there also is a reduction in expenses such as scaffolding, temporary protection, OCIP requirements and site rubbish removal. Moreover, EIFS with metallic or stone finishes or masonry veneers, will cost significantly less than metal panels or traditional clay brick. Owners also save over the long term due to the increased energy efficiency and reduced maintenance requirements of their building with a panelized EIFS facade.

Keep in mind: Costs for any prefabricated EIFS panel system will vary based on specific project design, finishes selected and project size, among other considerations. In general, prefab panel costs average a 10 to 20 percent premium over field-applied, but these costs are typically offset by schedule-, equipment-, and labor-savings. Additionally, prefab wall panels often come with a single-source warranty, which gives owners added protection and peace of mind.


Conclusion
Field-applied EIFS can be a great option for your façade, but they are subject to challenges such as weather delays, longer cure times, and the scaffolding needed for installation. In addition, the performance of a field-applied system depends in part on the skill level of the installer. Prefabricated EIFS panels, on the other hand, can eliminate or minimize these issues. They offer the same continuous insulation and design versatility in a single-source assembly including, in most cases, framing, sheathing, and the cladding material. This panelization process makes it easier for a contractor, general contractor and owner to keep projects on time and on budget, while meeting (or exceeding) original design intent and performance requirements.
Watch prefabricated EIFS in action through this case study video: