FICTION. Peel-and-stick membranes and tapes are designed to be adhered to sound structural surfaces (non-moving). The material application requirements clearly state to not bridge across gaps and voids. Using them at transitions in moving joints is counter to how they were designed to be used.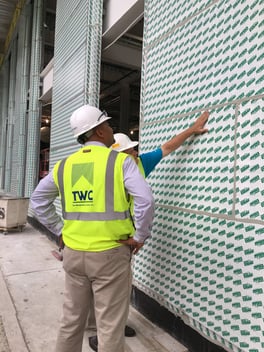 Peel-and-stick membranes and tapes are commonly used as a rough opening treatment but it is virtually impossible to make this treatment seamless.
This usually requires cutting and fitting together different pieces with many overlaps. The seal between the laps is the weakest link. And, where there are seams, there is an opportunity for moisture (and air) to enter.
Within the last several years, product development has brought more secure options but change is difficult for many.
The question then comes down to how the various alternatives today will perform under demanding conditions and at what point performance breaks down.

To better understand the performance of various materials available today, a Self-Adhered Membrane and Pre-engineered Silicone Materials were tested as transition materials on two different test walls at Tremco's Sustainable Building Solutions Test Facility to compare side-by-side performance.
ASHRAE 90.1 and the Air Barrier Association of America (ABAA) specify air leakage not to exceed 0.04 cfm/ft² @ 75 Pa (25 mph; 1.57 psf). Both products performed within the specification prior to being racked however leakage rates for the Self-Adhered Membrane were up to four times greater than the Pre-engineered Silicone Materials.
When subjected to the Water Leakage Testing (ASTM E331), the peel-and-stick membrane experienced water leakage almost immediately after the pressure was applied.
The pre-engineered silicone material did not leak water at any time throughout the test.
When it came to air leakage after racking or simulation of dynamic joint movement, only the Pre-engineered Silicone was able to pass. The Self-Adhered Membrane was not included as it had sufficient leakage during initial air leakage testing with nominal movement that it had failed subsequent water leakage testing.
Higher elevations have higher wind loads and greater movement. It is only a matter of time before problems start. Don't make the mistake of relying on traditional methods.
An accessory – peel-and-stick membrane or sealant – is NOT a transition solution.