Faced with material shortages and pricing volatility, resulting from the COVID-19 pandemic, combined with concerns about the environmental impact, construction industry stakeholders are facing a big shift in navigating their building material selection. This blog investigates these supply chain and sustainability questions in the context of roofing to help guide design professionals through new construction, replacement, and restoration projects.
Current Situation
The first item to address are some of the factors that have contributed to the industry-wide material shortages and pricing increases. It is important to point out that there is no one event at fault, but a cascading chain of global events which included:
COVID-19 shutdowns – Reduced manufacturing and production of construction materials due to stay-at-home orders and forecasting uncertainty.


Increased consumer demand – Many of the raw materials required for commercial and industrial construction are also used in residential construction. Increased demand outstripped the already limited supply.


Severe environmental events – Fires, floods, hurricanes and deep freezes have devastated areas of Canada and the United States, damaging infrastructure and further straining the supply chain.


Port backlogs – workers' strikes, natural disasters and reduced staffing have led to a massive backlog of goods transported by sea.


Trucking shortages across North America and border restriction issues.
These challenges have affected all members of the construction industry and have resulted in project delays and ballooning budgets. In the roofing industry, the materials most significantly affected include roofing insulation materials, certain roofing membranes, adhesives, specialty chemicals, and fasteners. Delays in acquiring these materials range from 4 weeks to 12 months depending on the product and quantity required.

In addition, the overall cost of products has skyrocketed, with the National Roofing Contractor's Association (NRCA) reporting a 23.5% increase in roofing materials between December 2020 and December 2021 and a 105.1% increase in iron and steel prices during the same period. Unfortunately, the stabilization of pricing is not anticipated until 2023, which means end users, including tax payers, are getting less value for every dollar spent.

Environmental Considerations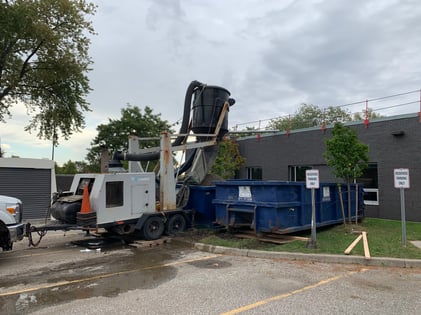 The building and construction industry contributes significantly to the generation of green house gas (GHG) emissions and ultimately the effects of climate change. Architecture 2030 reports that buildings and the construction industry generate nearly 40% of annual global CO2 emissions – 28% through building operations and another 11% through building materials and construction. The consequences of rising CO2 are well documented and have contributed to extreme weather events, food scarcity and rising sea levels. A key way the roofing industry can assist in reducing GHG emissions is by diverting waste from landfills and minimizing the consumption of raw materials through manufacturing of new products. This can be achieved by extending the service life of existing roofs through roof restoration, and by designing durable, high-performance roofing systems with longer lifecycles through new construction and roof replacements.

Restoration of Existing Roofs

Restoration is the process of keeping the core functioning components of an existing roof and upgrading the water-resistant or waterproofing components. Restoration practices can dramatically extend the service life of a roof and may even eliminate the need for future replacement.

Additionally, restoring a roof, as opposed to a replacement, can mitigate some of the issues we are facing with material shortages and pricing increases. Restoration does not require the same volume of materials as a roof replacement project which can help expedite projects as well as keep them within budget. The introduction of new high-performance roof restoration systems also offers these benefits:
Cost savings for the building owner;
Diversion of construction waste to landfills;
Avoiding tons of carbon emissions;
Reduced disruption and risk for building occupants;
Potential to convert roof into a high-albedo roofing system and reduce energy consumption;
Odor-free options available;
Cold weather systems available, and
Accommodates challenging roofs with limited access and staging areas.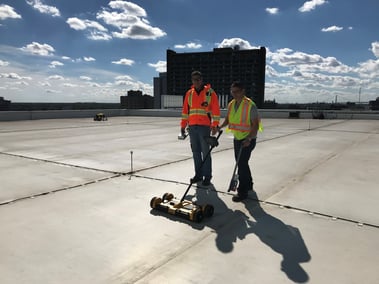 In order to ensure a successful restoration, a roof needs to be thoroughly vetted through inspection and, if needed, lab analysis to determine the roof's condition. The process of inspection can include a visual review, core samples, and infrared analysis or electrical capacitance to determine the quantity of moisture-saturated insulation. It is recommended to engage your manufacturers during this process to discuss warranty options as well as recommended systems.

As a general rule of thumb, a typical restoration candidate is a roof that is in fair condition, with insulation that is under 25%-30% saturated and with no serious discernable issues. Although the investigation process requires time, coordination, and investment from the owner or property manager, the risk mitigation and preventative maintenance can lead to significant cost savings.

Once the roof has been approved as a restoration candidate, the next step is to repair the damaged areas, including any blisters, ridges, and removal and replacement of saturated insulation. Replacing saturated insulation is important to prevent the development of mold, rot and loss of thermal performance. The final step is to install the approved restoration solution. Modified bitumen, single ply, built-up, and metal roofing are all potential restoration options depending on the existing roof type, as outlined below. Contact your local manufacturer to discuss project specific concerns, warranty requirements, system benefits and surface preparation requirements.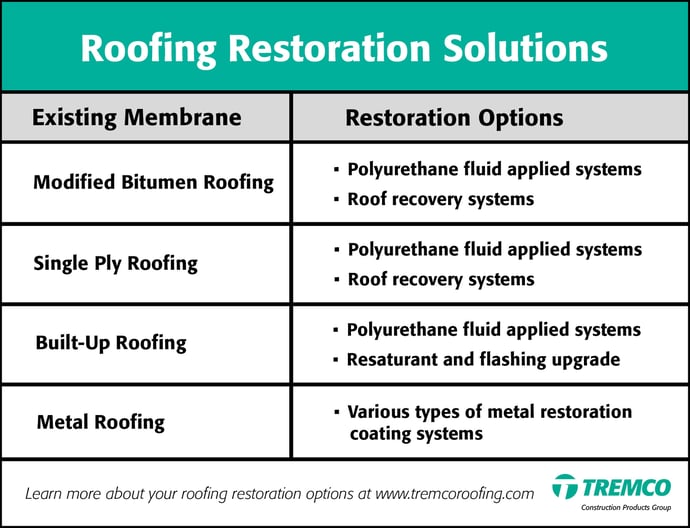 Design Options for New Construction and Roof Replacement

Unfortunately, not all existing roofs can be restored. In the case of new construction and roof replacement projects, entirely new roofing systems need to be designed and installed. These projects have been the most heavily affected by the material shortages and pricing volatility and also contribute to the increase of global carbon emissions.

The following tactics can help guide the design of new construction and roof replacement projects while alleviating supply chain challenges and environmental concerns:
Design with multiple membrane options – Provide the option of pricing out a second membrane and request lead times and pricing for both. Availability may dictate the installed roofing system.


Design for performance rather than prescriptive - Ask your client if they would be comfortable with a performance-driven roofing solution rather than a prescriptive solution. Identify a list of manufacturers with past proven performance, your required warranty length, performance requirements, fire rating, wind uplift and system guidelines and allow your contractors and manufacturers to assemble a system that is both available, high-performing, and cost competitive.


Design systems with fewer components. Considering the configuration of the roofing system, inverted roofs typically have fewer components than conventional roofs, which means less potential for material delays. Additionally, the membrane in an inverted roof can be installed immediately and the building can be watertight, which can prevent insulation delays from affecting the project schedule. However, inverted roofing systems are typically heavier due to the ballast requirements and this additional load will need to be confirmed by the structural engineer.


Design with durability in mind – While we cannot always predict future challenges like global pandemics, designing a durable roof that can withstand high winds or natural disasters is not only more sustainable, but can reduce future costs and headaches associated with removal and replacement. Look at systems with a history of resiliency, as well as physical properties like puncture resistance, tensile strength and low temperature flexibility.


Work with manufacturers with a diverse portfolio of product offerings and strong local presence.


Be flexible but compliant - If a project requires substitutions of components, confirm with your manufacturer that the alternate products do not void any warranties, fire ratings or wind uplift ratings.


Conclusion

As the construction industry strives to meet building material demand in a timely way and on budget, there are still a variety of options to provide durable roofs for your clients. Identifying roof restoration solutions and sustainable practices for new construction will minimize both short- and long-term risk for the designer, contractor, property manager, and owner. As always, consult with your manufacturers and roofers for the most up to date information on product pricing and potential delays.