Brick is the oldest known manufactured building product, but little has been done to adapt it to modern commercial construction practices and codes – until now.
The evolution of clay brick has led to an innovation in lightweight insulated masonry veneers, which offer the look and feel of traditional brick with added energy efficiency and cost savings for the design/build communities.


Bricks of Buildings Past
Traditional clay bricks are strong, withstand corrosion and resist fire, which have made them a dependable building material ever since their humble beginnings nearly 10,000 years ago. Production capacity spiked with the Industrial Revolution of the late 1800's. During this time, structural steel and concrete emerged as the primary method of infill wall construction, and brick became less common as a structural need. The look of brick, however, continued to be desired.


In the 1950s, "thin brick" was developed for exterior use to reface existing structures. Still in use today, thin brick offers the same configurations and designs of traditional full brick but, as the name suggests, it is simply thinner and is not used structurally.


Building with Brick Today
Regardless of its size, the modern process of fabricating clay bricks involves significant time, labor and resources. The materials (typically clay and sand) are mined and sent to a manufacturing facility where machines create the right mixture and size them into bricks. Once the moisture is removed, the bricks are fired in a kiln at close to 2000 °F (1093 °C), then stored until being shipped to their destination.


While durable and long-lasting, traditional bricks have their limitations. They naturally absorb a small amount of water which makes them susceptible to moisture problems, such as efflorescence, or freeze and thaw damage. As buildings get more complex and codes have stricter mandates, the materials used should accommodate and make the design/build teams' jobs easier, not harder.


The Latest Innovation in Masonry
Lightweight insulated masonry veneers (LIMVs) are a new technology introduced about 4 years ago. Although non-structural, LIMVs come in the same sizes as traditional brick – Economy, Modular, Norman and Utility, but weigh considerably less. They are a great option for both new and existing construction types due to their insulating properties and longevity.




New Construction Energy Benefits
An assembly with LIMV is ideal for gross lease type owners, including multifamily, student housing and hospitality structures, because of the long-term energy savings. The lightweight insulated masonry veneer and mortar has an effective R value of 1.4. Traditional brick has an effective R value of 0.3 to 0.4. Education and healthcare buildings can also benefit from these features. Insulated brick veneers have also been tested to NFPA 285 and pass successfully when used with compatible CI systems.


Maintain the Look and Feel of Clay Brick for Restoration
In an overclad situation, where the original structure needs refreshing, LIMVs can be installed to create a new aesthetic or match the look of an existing structure. Custom colors and textures are also feasible, maintaining the historical integrity of a building with ease.

LIMVs are fade resistant and durable, passing ASTM G155 Cycle 1, which tests the effects of sunlight, moisture and heat. The Gardner impact test also demonstrated the impact resistance of insulated brick veneers versus thin brick. Equal forces of 48 inch-pounds were applied to each product's surface. The insulated brick veneers held up to the pressure, while the thin brick merely broke in half.
Light-Weight for Less Cost
Insulated brick veneers, in a modular size, weigh approximately 0.36 pounds per brick versus a traditional modular-sized brick at 4.2 pounds. The veneers come in bundles of 96 units, weighing in at about 34.5 pounds. The same number of traditional modular brick weighs 403 pounds.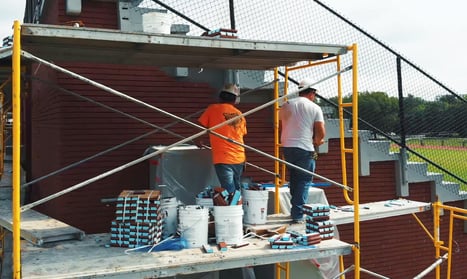 During installation, the scaffolding that's needed for traditional brick may need to be engineered to carry that weight. With lightweight insulated masonry veneers, installers can utilize other staging options such as a scissor lift, which can result in significant equipment cost savings.
This weight difference also impacts shipment costs. For a 30,000-square-foot project, it takes more than 20 semi-truck loads to deliver the needed traditional brick to the site. A comparable supply of LIMV for the same project would require only 1.63 semi-trucks.


Easier Installation and Less Risk
For speed of installation, insulated brick veneers have a built-in horizontal alignment guide, which gives the exact spacing, brick-to-brick vertically, which enables them to be installed 49% faster versus traditional brick on the same type of building configuration. This speed means a building can be enclosed from the elements sooner to allow interior work to begin.

Whereas typical bricks are laid with mortar, these veneers are applied to the façade with an adhesive, which expedites the process as well. There are no penetrations through the air/water-resistive barrier or the continuous insulation (CI) assembly whatsoever which minimizes the risk of damaging the building envelope which can lead to moisture infiltration and energy loss.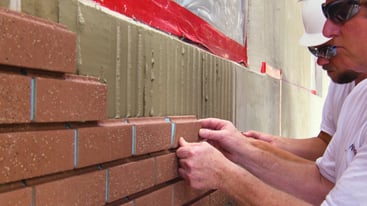 From there, Type N or Type S mortar is installed between the veneers via a mortar bag, Quikpoint mortar gun, or a pump with a tuck-pointing tip. This creates the same look and feel as traditional clay bricks but eliminates the need for a concrete foundation shelf, lintels, wall ties, or mortar nets. It also removes the strenuous practice of installing blocking around punched openings to achieve continuous insulated masonry assemblies.

Cleaning LIMV is similar to traditional clay brick methods as well so there is minimal learning curve for applicators. Simply presoak the surface of the brick and then apply the cleaner. Light scrubbing is acceptable, and then thoroughly rinse.


Wrapping Up the Conversation
Traditional clay bricks have been a reliable building material for millennia. However, they can be expensive to ship, are not energy efficient, and do not offer much design flexibility in an era of intricate architectural goals and energy code mandates. To accommodate these challenges, a new lightweight insulated masonry veneer (LIMV) was created for logistical ease, custom aesthetics, and faster mobilization. With greater energy efficiency and lighter weight than traditional clay bricks, they reduce the necessary time, labor, and equipment, providing whole wall cost savings.