Sealing fasteners on metal roofs can be time-consuming and use up a lot of sealant. However, I recently discovered a workaround using an easy-to-make tool and your choice of sealant to dispense the perfect amount of product to secure fasteners, while minimizing waste and dramatically increasing your productivity.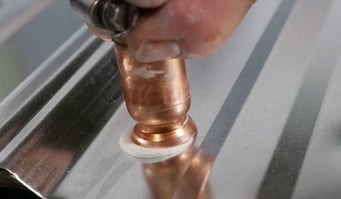 This device is made for siphoning gas out of a car, but we are using it in reverse. You attach the tool to the cartridge of sealant (you can use a variety of sealants typically used for metal roofs) with PVC tubing and hose clamps. When you press the bell of the tool down on the fastener, it pushes on the interior marble, releasing just enough sealant for a pressure seal. Each time you lift the device off the fastener, the marble goes back down, prohibiting excess sealant from escaping. This simple process can seal as many as 2800 fasteners in an hour.

Here are the top benefits of incorporating this tool to seal metal roof fasteners:
More Controlled Application
This tool enables greater control over the product, meaning a cleaner application with less wasted sealant on the roof and on the applicators themselves.


Increased Productivity
The simplified process enables applicators to more quickly seal metal fasteners than traditional methods. And because there is less wasted sealant, applicators don't have to change cartridges as frequently.


Cost Savings
You can make the tool yourself for under $15, and while each setup can only be used for one day, it saves significant sealant waste and can be used with the sealants you already use for your metal roofs.


Sealing metal roofs is a critical part of the detailing process that can be made easier and more efficient with a little ingenuity. Watch the tool in action with this video from Contractor Corner by Corey.
Please note that results may vary by sealant chemistry and product manufacturer. This process is meant to complement, not replace, manufacturer application instructions so review those carefully to ensure compatibility.