Energy efficiency has become a construction industry buzzword because of rising prevalence in green initiatives throughout the building world. While it sometimes seems like a short-term trend, this goal is the main driver in moving fenestration forward and will continue as it has for decades.
According to the United States Department of Energy (DOE), achieving more energy-efficient structures will require "superior architecture and engineering designs, quality construction practices, and intelligent operation of the structures."[i]

As construction professionals, we can contribute to this goal by focusing on the quality of the building envelope, specifically at the windows, walls, and roof. Improvements here will ultimately save owners big money by alleviating operating and maintenance costs associated with the building's energy consumption. In this article, we will delve into the current state of our structures and discuss the opportunities to drive greater energy efficiency in both new construction and restoration projects.
Current State
In 2018, commercial buildings consumed 18% of all energy in the United States.[ii] Upfront adaptations to design and construction of these structures can both help the environment long-term and minimize this economic and financial burden.

The push for more energy efficient structures started decades ago. The American Council for an Energy-Efficiency Economy (ACEEE) began in 1980 and has been a major driver for advancements in green initiatives. National, regional and local directives have mandated new construction adhere to specific codes for lower energy consumption. Tax incentives and programming, such as ENERGY STAR, LEED, Living Building Challenge and Passive House Institute US, have also guided the trend towards more energy-efficient structures. Owners, investors, designers and contractors look for ways to drop their bottom line and are incorporating energy-saving practices to save significant construction, operating and maintenance costs.
Opportunities for Improvements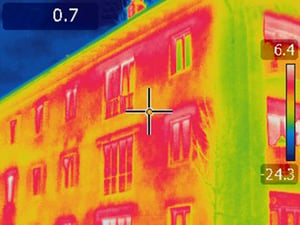 The DOE recommends treating buildings as integrated systems, considering the climate and surroundings that make up their unique environment. Factoring in the windows, walls, roof, and foundation all contribute to the flow of heat, moisture and air. This is where the challenges lie, as the numerous stakeholders will push for competing performance standards, timelines, and budgets, while achieving a particular aesthetic and functionality.

While net-zero energy and ultra-low energy buildings is a laudable ambition, smaller and less daunting improvements can make a big difference for any new construction or retrofit project. The University of Michigan's Center for Sustainable Systems asserts that "current energy efficiency measures can reduce energy consumption by 20-30% with no significant design alterations."[iii] With that in mind, we will investigate the areas of the building where changes can yield energy-saving results.
Window Systems
Windows can be the greatest risk or the greatest opportunity for energy-efficiency as they let in light and transfer the exterior temperature indoors. Glass choices with optimized solar heat gain, reflectance combined with different low emissivity coatings can help reflect some of that light and heat, rather than absorbing it in the interior.

Effectively sealing window units into the cavity is critical to prevent air and moisture from penetrating into the wall system. Sealants, air barriers, gaskets and surrounding substrates must all be compatible and have appropriate adhesion. Designs are becoming more complex, so talk with the architect or manufacturer to ensure the condition is being detailed properly. Looking into rated versus effective R-values for glazing systems can also help understand expected performance.

Studies have found significant advantages to incorporating insulated glass (IG) units that are vacuum-sealed between the panes and enable ever-more efficient triple glazing. Trends are shifting away from the traditional aluminum spacers, which allow excess condensation and heat loss. Current foam spacer systems virtually eliminate conduction and convection, which lead to heat transfer into the building.
Insulation
There are three key challenges to energy efficiency that can be solved with continuous insulation (CI): thermal bridging, cavity insulation and air leakage. CI increases thermal performance of a structure, minimizes the potential for condensation in the wall, and reduces the thermal expansion and contraction of framing.

Using exterior insulation and finishing systems (EIFS) effectively eliminates thermal bridging altogether. Prefabricated panels of EIFS can also speed the cladding process by allowing for the air barrier, CI, and finish coat to be applied in a quality-controlled setting and then shipped to the jobsite for installation. This option is ideal for retrofit applications as it can be installed over the existing façade while the building remains occupied. View a project profile of this successful application here.

Insulated Concrete Forms (ICFs) are another option for providing superior insulation to your commercial structure. These blocks are easily stacked and, when finished, supply two layers of insulation filled with concrete to improve energy-efficiency of the building. The Howland Green Business Centre, in Markham, Ontario, Canada, used ICFs among other state-of-the-art technology in its construction and is set to be net positive, generating more energy than it consumes.
Building Envelope Design and Testing
The building envelope is a main source of lost energy, with the critical connections and penetrations at risk for air and moisture infiltration. Sealing the enclosure with high-performance products and quality application can save money on operating costs and contribute to a more comfortable and healthier environment for tenants.

To measure and locate leaks in a building, consider smoke and pressurization tests which can identify the source of air infiltration for repair.

In preparing for the construction of a building, sophisticated modeling software has become a powerful tool in estimating the energy-efficiency of wall designs. It uses data points based on climate, insulation thicknesses, the specific brand and application thickness of an air barrier, and other design-specific components. This integrated system approach allows the design/build team to determine if a more robust system is needed to meet energy goals. Read this blog post to learn more about the benefits of one of these simulations, the WUFI model.

These models are not perfect indicators of performance but can relay expected outcomes to guide any necessary design adaptations prior to going onsite. From there, the DOE recommends comparing these predictions to the actual operation values to aid in the "detection and diagnosis of equipment and control faults and…any divergences from design intent."[iv]
Roofing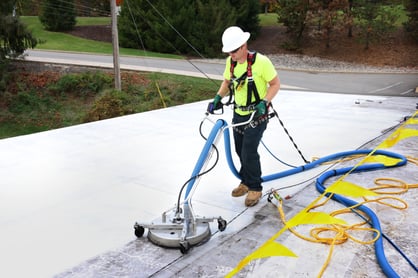 The roof of a building is an opportunity to reflect sunlight instead of absorbing it. A white roofing membrane, for example, significantly decreases the load of the HVAC system, lessening the necessary cooling costs of the structure. The roof-to-wall connection is also susceptible to air and water infiltration, so it is important to review these details and the transition application to prevent costly leaks.

The latest roofing materials can even reduce the "heat island" effect, where the ambient temperature of a city is increased due to buildings and other surfaces absorbing heat from the sun. The solar reflectance and thermal emittance of roofing products can be found and compared through the Cool Roof Rating Council. Incorporating vegetation into a roof's design can also aid in the "reduction in rooftop ambient air temperatures which may lead to a commensurate reduction in overall urban heating," as identified by the International Institute of Building Enclosure Consultants (IIBEC).[v]
Restoration
Of all the commercial buildings currently in operation, more than half were built before 1970.[vi] This poses a unique opportunity for improved energy-efficiency and costs savings in retrofitting these structures. Utilizing the tactics above -- improved design and application of windows, walls, and roofs -- will aid the longevity of these structures and lessen their operating and maintenance costs.

Far too often, restoration of a building only occurs at the last possible moment, when damage cannot be avoided; such is the case with extreme water leaks or natural disasters. It can be helpful to see this unfortunate situation as a chance to address the factors of energy usage and how it can impact long-term savings for the building owner.


Conclusion
In the construction industry, it is our goal to create well-designed structures for owners, ultimately finding the intersection of building safety, comfort, aesthetics and affordability. Incorporating the practices discussed here can help owners satisfy those needs, often at little or no extra cost, and present long-term savings in the form of reduced spending on heating, cooling and maintenance.

In both the new construction and renovation processes, historic data and predictive software can inform critical design decision making. Similarly, the ACEEE described in their 2015 report, "Energy Efficiency in the United States: 35 Years and Counting", that a number of local governments have implemented ordinances requiring the disclosure of the energy use of commercial buildings to potential owners or renters.[vii] This education will help the spread of energy-efficient strategies.

Together, we can make a financial and environmental impact on our cities, and proactively addressing these building enclosure issues will hold everyone accountable. Don't wait for regional directives to make a change when minor adjustments in designs and construction can protect stakeholders for the foreseeable future.

Notes:
https://www.energy.gov/sites/prod/files/2017/03/f34/qtr-2015-chapter5.pdf
http://css.umich.edu/factsheets/commercial-buildings-factsheet
Ibid.
https://www.energy.gov/sites/prod/files/2017/03/f34/qtr-2015-chapter5.pdf
https://iibec.org/vegetative-roofs-problem-future/
https://www.energy.gov/sites/prod/files/2017/03/f34/qtr-2015-chapter5.pdf
https://www.aceee.org/sites/default/files/publications/researchreports/e1502.pdf