For a complete factory-assembled wall system delivered to the jobsite ready to install, consider an offsite approach to continuous insulation (CI). These CI panels are designed and engineered to be easily shipped to the field and installed quickly to close in the building's exterior.
Panelization offers the composition and versatility of a complete wall cladding system while providing contractors, designers and engineers with a single-source and easy-to-use solution towards building code compliance and energy goals. These panel systems have continuous insulation that minimizes thermal bridging and improves air and moisture management to create higher-performing buildings with lower energy consumption.


Three Types of CI Panels for Design-Friendly Solutions
The customization and engineering of prefabricated CI panels allow for various options, whether you need a complete composite system for a new construction job or a lightweight façade to retrofit an existing structure.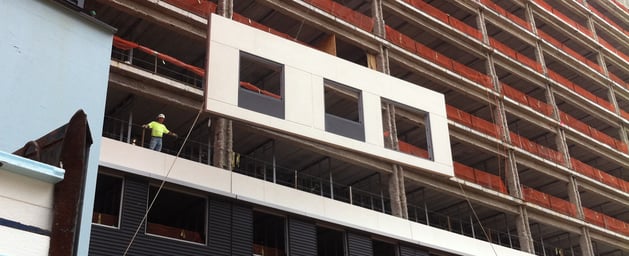 The design of CI panels includes a cladding assembly with a moisture barrier, drainage and continuous insulation that lessens thermal loads on the building's exterior wall. In addition, you can easily sculpt and shape lightweight the panels to accommodate different aesthetics and designs.
Contractors and architects can choose from three panel types to meet the building requirements, including the weight of the panels, desired aesthetics, durability and more.


1. Lightweight Panel Systems
Lightweight panels typically contain aluminum or steel extrusions embedded into the EPS insulation board. A base coat and mesh cover the panels, followed by a customizable exterior finish. Lightweight panels do not include external framing or sheathing, so they require attachment to a solid substrate, making them well-suited for retrofit or renovation projects.
2. Metal Pan Systems
You can style and finish the front of a metal pan system to match the building's façade materials, color, texture and architectural design, making them a good choice for screen walls and metal buildings or to dress up the office areas of warehouses.
Light, thin, non-loadbearing metal pan systems require additional framing support for windows, doors and other wall penetrations.
3. Structural Panel Systems
A structural panel system includes full steel stud composite panels with insulation, a weather barrier and, if desired, drainage detailing — these features highlight the durability, strength and energy-efficiency of this building option.


Eight Benefits to Modular CI Panels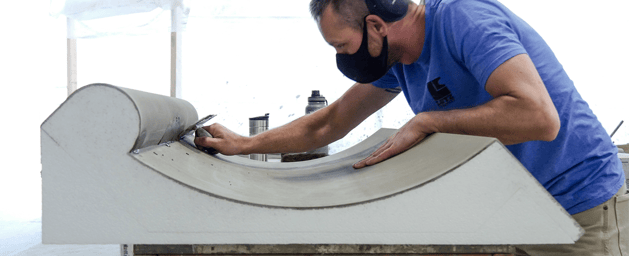 Modular CI panels provide many benefits to builders, architects and designers for new construction or renovation of residential and commercial projects:
Quick construction

E

nergy efficiency

Moisture protection

Quality control

Durability

Design flexibility

Numerous aesthetic choices

Cost savings




1. Speeds Up Construction
Panelization streamlines the construction timeline, saving money and allowing faster access to the structure's interior. Commercial building owners can begin collecting revenues more quickly.
Studies show that prefabricated CI systems hasten the completion of the building's exterior by 25% to 40% compared to traditional fluid-applied systems. Bad weather can delay field-applied insulation installation and lengthen cure times. In addition, for labor-intensive fluid-applied systems, worker shortages challenge many contractors to stay on schedule.
CI panels, however, avoid many weather-related issues. As a result, only the most severe weather will delay their installation.
In addition, some manufacturers offer an integration of continuous insulation with a factory-applied air and water-resistive barrier (AWRB) and gypsum-based sheathing board which merges the building's sheathing, air barrier, water-resistive barrier, drainage capacity, insulation and aesthetic value into one easy-to-specify solution.
The fluid-applied AWRB and flashings, compatible with common substrate materials, install easily to create seamless, monolithic waterproofing protections with proper drainage, which significantly speeds up the dry-in timeline.


2. Built-In Energy-Efficiency
The exterior CI wraps a building with insulation, unlike traditional cavity batt insulation installed between the studs. The design versatility of EIFS gives architects many specification options, such as insulation type — expanded polystyrene (EPS) or extruded polystyrene (XPS), depending on the performance needs.
Furthermore, a full complement of pre-base coated components (including starter boards, trims, edges and corners) and ease of installation will ensure proper joint sealant application, a critical interface of a tight building envelope.


3. Integrated Factory-Applied AWRB Sheathing Board
CI panels provide superior insulating qualities, exterior resiliency and protection against air and moisture infiltration. Combining the AWRB and sheathing material layers in a quality-controlled setting saves significant time and labor during installation.
In addition, permeable or impermeable AWRBs are code-compliant and tested for use behind other claddings.


4. Modular Continuous Insulation for Excellent Quality Control
Panelization offers superior and consistent quality assurance because manufacturing occurs in a controlled, indoor environment, not subject to variations in humidity and temperature. The CI panel in-plant production ensures more precise designs and dimensions.
Additionally, the architect and owner can access the manufacturing facilities and inspect the panels at eye level rather than requiring scaffolding to assess the exterior of the building.


5. Durable and Low Maintenance
Today's high durability CI offers ultra-high impact mesh assemblies installed throughout the cladding to improve resiliency and impact resistance.
CI panels reduces maintenance costs because their acrylic-textured finish and paint coatings repel water, reduce dirt pick-up and include fade-resistance to keep the façade cleaner and vibrant longer.


6. Design Flexibility
The design flexibility of prefabricated CI wall assemblies allows for custom sizes and shapes with multiple finish options. Prefabricated CI systems can suit a wide range of sizes, shapes and configurations. However, several situations may limit the size:
Due to trucking limitations for width, length or height, you may find some limitations in prefabricated panel sizes.
In addition, crane lifting or erection access, along with capabilities for size, weight and space availability, can also affect the size of the panels.


7. Many Aesthetic Choices
Building facades with CI panels can accommodate most aesthetic styles for a structure's exterior, including the look of stucco, brick, granite, stone, wood panels and metal panels. Using lightweight CI panels instead of heavyweight claddings such as precast or brick can lessen the needed structural support size.


8. Cost-Savings
The upfront cost of prefabricated CI panels can vary depending on the finish and product size, but it generally costs 10% to 20% more than field-applied systems. However, modular CI has several advantages that can offset these initial costs:
Only needs one source and one contractor for the entire exterior, which saves on time and labor costs.
Fabricating the panels in a plant provides control over design, execution and quality and limits waste and installation time.
Saves time and money by lessening the building timeline and reducing labor needs compared to field-applied methods.
Reduces the need for scaffolding, temporary protection, site rubbish removal and OCIP requirements.
Metallic or stone finishes or masonry veneers cost significantly less than traditional clay brick or metal panels.
Saves money over the long- term through increased energy efficiency and lower maintenance requirements.
Often comes with a single-source warranty, giving owners added protection and peace of mind.


The Advantages of Modular CI for Exterior Walls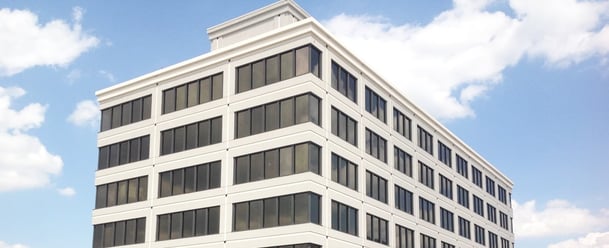 Modular CI panels can meet any building project's aesthetic and structural demands for energy efficiency, moisture control, durability and fire protection. Options include easy-to-mount lightweight panels, metal pan systems to clad metal frame structures and structural panel systems for projects with heavy loads requiring extra strength.

They deliver factory-controlled assurance to the job site with faster installation than traditional methods. CI systems also provides a solution for construction sites with tight quarters, like big cities, with limited operating and storage space.

Construction using modular continuous insulation allows for a quicker timeline to expedite opening the building. In addition, CI panels provide a code-compliant exterior wall system to give builders and architects peace of mind as well as a high-quality finished product.