For natural light and a modern aesthetic, ribbon windows are frequently sought after in building design. Having such a large series of glass can be difficult to arrange logistically, but prefabrication is the emerging tactic to mitigate jobsite challenges and create a longer-lasting result.
Here are the top 4 advantages of using prefabricated ribbon windows in commercial glazing applications.
Saves time
Most projects are schedule-driven. Especially when there are tight time constraints in the field, prefabrication takes the time and labor indoors. By prefabricating and pre-glazing the window systems in the factory, the resulting building can be dried in faster to allow interior trades to begin their work. This results in faster ownership turnover which is a benefit to the contractor and building owner.

See how the University of Texas Southwestern Medical Center benefited from 80,000 square feet of prefabricated ribbon windows on their recent addition in this downloadable case study.
Improves worker safety
Using prefabricated window systems minimizes difficult and dangerous labor conditions. The factory provides a controlled condition for in-plant workers to construct the window units. And instead of applicators hanging on the outside of the building, the ribbon windows (often weighing over a thousand pounds each) are carefully lifted using a crane and workers, from the inside of the structure, can guide the pieces into place and install them safely. Only the final stage of sealing the windows requires manual labor from the exterior of the building.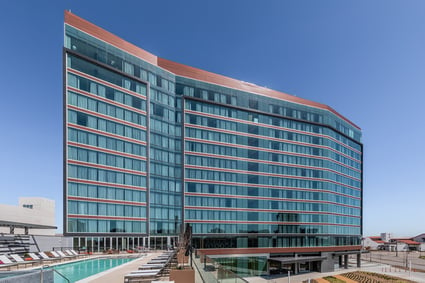 Alleviates architectural challenges
Typical projects require significant coordination between the sub-contractors, the GC and the architect to ensure that the architect's design effectively comes to life. With prefabrication, the subs can more easily work together to create the necessary pieces and literally "snap" them together in the field.


Improves system performance
With factory-applied products, application has fewer environmental variables to contend with. The greater control means greater quality assurance of the system's appearance and long-term performance. In this case, the ribbon windows are water-tight and will look beautiful for decades to come.
---
While prefabrication of ribbon windows requires significant up-front communication and coordination of schedules, it is well-worth the end result. Projects are completed faster and with less job-site risk versus traditional in-field applications. Prefabricated ribbon windows minimize details getting lost in translation between the architect and the subcontractors.


To learn other advantages of prefabrication in traditional construction and earn AIA credits, view this webinar on-demand: Prefabrication Trends – Factory Applied Air Barriers