Continuing changes in building and energy codes toward the goals of sustainability, higher-performance and reduced energy consumption make it increasingly challenging for designers, engineers and constructors to stay ahead of the curve. To achieve these code mandates, the industry has seen major enhancements to wall assemblies through increased insulation, reduced thermal bridging and air/moisture infiltration management. The composition and versatility of Exterior Insulation and Finish Systems (EIFS) as a complete wall cladding system make them an easy-to-use, single-sourced solution to address these growing design and construction needs.


EIFS offer tremendous versatility in the new construction and renovation of both commercial and residential projects. In addition to their lightweight composition, design and detail flexibility and cost effectiveness, EIFS are the most fully and comprehensively tested exterior cladding choice and are also NFPA 285 compliant. These 6 recent developments give EIFS an even greater competitive advantage to other traditional cladding options:


Design Versatility
EIFS are not one size fits all. From a designer's perspective, you have many specification options such as insulation type - expanded polystyrene (EPS) or extruded polystyrene (XPS) depending on your desire and performance needs. A full complement of pre-base coated components (including starter boards, trims, edges and corners) ease installation challenges and accommodate proper joint sealant application, arguably the most critical interface of a building envelope. The latest in hydrophobic chemistry allows the acrylic-textured finish and paint coatings to repel water and reduce dirt pick-up. Together with advanced chemistry in high performance colorants for UV and fade resistance, EIFS ultimately reduce maintenance costs by keeping the façade cleaner and vibrant longer.


Extreme Durability
Durability of EIFS has always been a concern for owners and architects. Recent advancements have enabled extreme resiliency and impact-resistance through a High Durability EIFS system, which offers an ultra-high impact mesh assembly installed throughout all EIFS cladding areas. Some manufacturers offer this enhancement option with a 20-year impact repair warranty which addresses any necessary repair for normal wear and tear.


Aesthetic Choices
You don't have to sacrifice curb appeal or budget to achieve the energy-efficiency mandated by building codes. Today, the aesthetic possibilities are endless with acrylic textured finishes, specialty finishes and high-performance coatings. Through EIFS alone, your building façade can incorporate the appearance of stucco, brick, granite, stone, limestone, travertine, wood panel, metal panel and/or weathered steel.


Prefabrication/Panelization
Modularization and prefabrication methods represent a huge asset in the construction industry today and EIFS are no exception. EIFS panelization options mitigate the numerous in-field challenges such as difficult weather, limited access or space on the jobsite, and labor shortages. The prefabrication process enables greater quality control of the panels in a factory setting prior to installation. Panels can be applied to the exterior in virtually any weather condition, fast-tracking the drying-in of the building envelope. Another added benefit is the customization and variety of options that can be engineered. Whether you need a full composite system for a new construction job or a lightweight EIFS façade to retrofit an existing structure, panelization can be a great solution.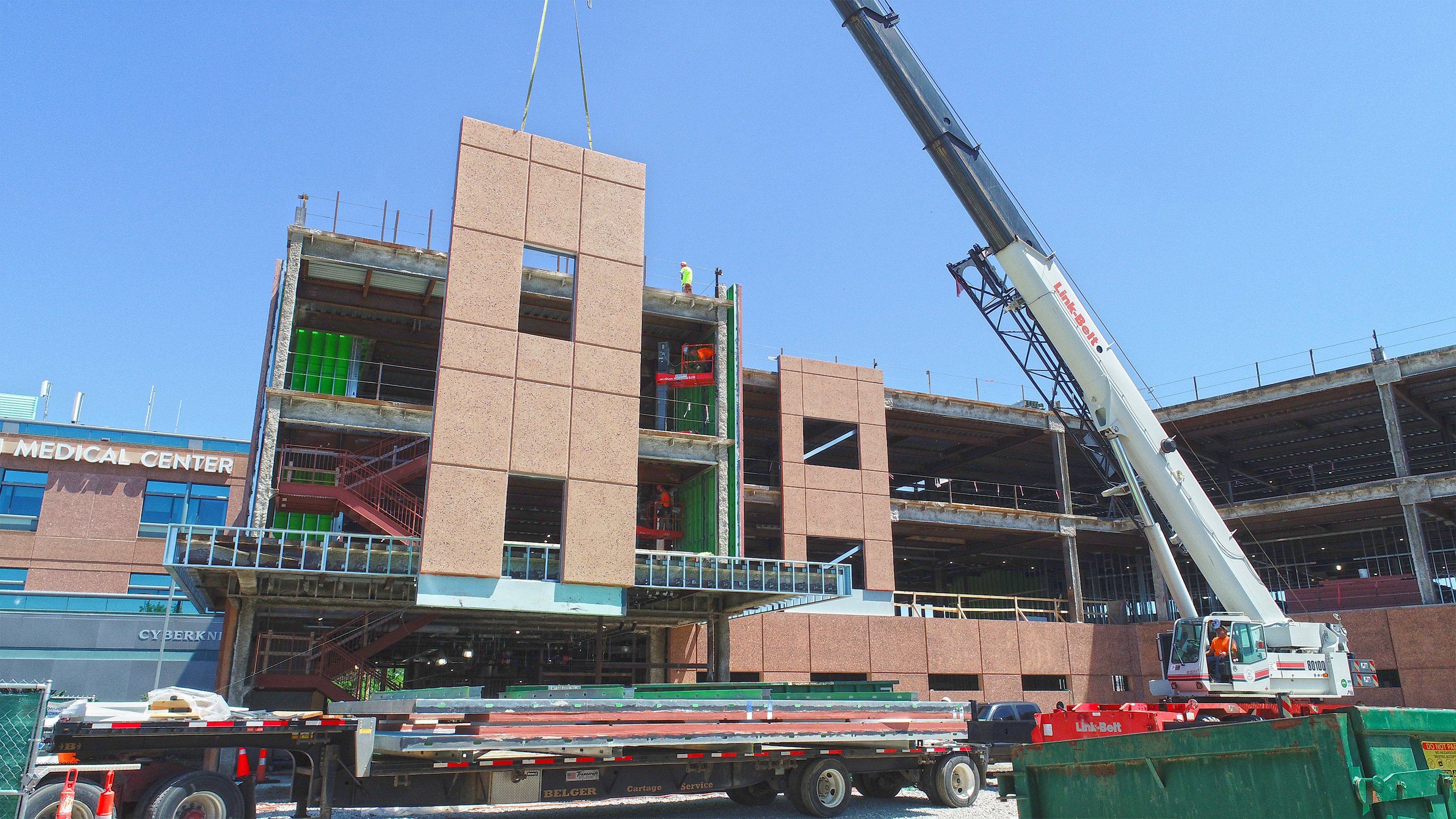 EIFS Integrated Factory-Applied AWRB Sheathing Board
The latest innovation in EIFS is the integration of factory-applied Air and Water-Resistive Barrier (AWRB) and gypsum-based sheathing board as an all-inclusive wall cladding assembly. This merges the building's sheathing, air barrier, water-resistive barrier, drainage capacity, insulation and aesthetic value into one easy-to-specify and install EIFS solution This comprehensive system offers superior insulating qualities, exterior resiliency and a defense against air and moisture infiltration. With the AWRB and sheathing material layers being combined in a quality-controlled setting, it also saves significant time and labor in the field during installation.
Fluid-Applied Air and Water-Resistive Barrier and Fluid-Applied Flashing
The significant advancement in fluid-applied AWRB and flashings reduces the building dry-in timeline. These membranes are compatible with nearly all common substrate materials, are easy to install and create seamless, monolithic waterproofing protection with proper drainage. AWRBs can be permeable or impermeable as needed, and are code compliant and tested for use behind other non-EIFS claddings as well.


If you are seeking a long-lasting cladding option for a new construction or renovation project, consider using EIFS for their design flexibility, durability, aesthetic choices, ease of installation and panelized or field-applied options.