When it comes to specifying the right type of exterior and insulation finish system (EIFS) for your project, there are three types of panels that offer a design-friendly solution.
Choosing the appropriate EIFS panels for your project depends on several factors, including building requirements, weight of the panels, aesthetics, durability and more. We're here to help make the decision process easier to navigate.


3 Types of EIFS Panels
EIFS panels work as a reliable cladding assembly, one that offers your building design a moisture barrier, drainage and continuous insulation.

According to the Whole Building Design Guide, "The popularity of EIFS comes from its insulating qualities to reduce thermal loads on the exterior building wall and the light weight, low cost, and the ability of the system to be sculpted into shapes and patterns to achieve different aesthetic effects."

In general, there are three types of prefabricated EIFS wall panels that ensure the protection of your building, each with its own benefits. Let's dig deeper to see how each of these prefabricated systems can benefit your design.


1. Lightweight Panel Systems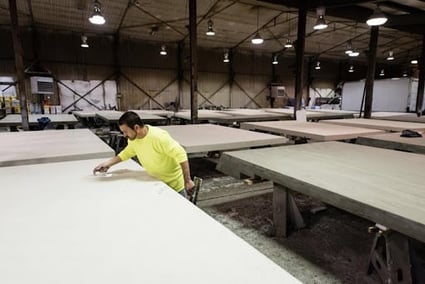 Lightweight panels typically have an aluminum or steel extrusion embedded into the EPS insulation board. These panels are coated with base coat and mesh, followed by an exterior finish that is customizable for your design. They do not include external framing or sheathing; they'll need to be attached to a solid substrate, which makes them well suited for retrofit or renovation projects.

Lightweight panels are lighter than other EIFS panels, and weigh around two and a half to 3 pounds a square foot, depending on the reinforcing mesh and finish applied. At six by eight feet, the panels can weigh around 100 pounds each. Reinforcing channels are embedded, which provide strength and enhanced handling to the panel. Two crew members are generally able to move the panels around with no crane required for installation.

Prefabrication Process
While every manufacturer will have a slightly different process, lightweight panels are made in similar fashions. A hot wire machine cuts grooves into the foam, where extrusions can be inserted into the EPS, providing structural integrity required to lift and move the panels.

Next, the basecoat and mesh material are applied to the panel, although some manufacturers have automated the process and use extruders with hoppers where the panels are coated in basecoat. After drying, the finish is applied either mechanically or troweled on.

The finished panels are packaged and crated or placed on skids to prevent damage in shipping.

Fastening Features
Installation of the lightweight panel system comes with a few options, depending on your project's demands. Lightweight panels need to be mounted to a solid substrate, like sheathing or masonry.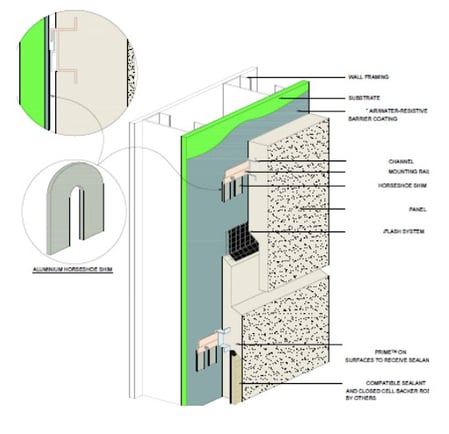 The lightweight panels can be adhered to the mounting wall with an adhesive or mechanically fastened.
A drainage path is easily created with a mechanically attached lightweight panel system by installing a horseshoe shim behind the mounting rail. The horizontal joint can be designed to allow for drainage.
A fluid-applied flashing material can be installed for an egress point at each floor line. Every other floor line should introduce a shiplap joint at the top and bottom edge of the panel.
Corner panels or butt joints are used to create inside and outside corners — it just depends on what your design calls for.
If the installer is working in a colder climate where tenting and heating can be big setbacks, the system can be modified to have a receiver added to the extrusion and a mounting rail applied continuously on the wall to mechanically attach the panels to.
The benefits of a lightweight panel design include flexibility and design versatility. Architects can add geometric designs and other detailing in the panel layout. No matter what kind of look you're going for, this EIFS panel will help you enhance that design.


2. Metal Pan Systems
Metal pan systems typically are used for screen walls and metal buildings. You'll often see this type of panel dressing up the office sections of warehouse buildings. The front of the panel can be styled and finished to work with your building façade materials, color, texture and architectural design.

Typically weighing around five pounds a square foot, metal pan systems are lighter and thinner than full steel-stud composite panels. Because they are non-loadbearing, they require additional framing support for windows, doors and other types of wall penetrations.

Prefabrication Process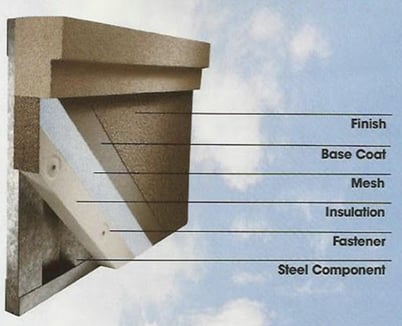 This type of panel includes EIFS over a light-gauge metal decking. On a metal pan system, the thickness of the insulation can be customized, along with any specifications around the panel's finish.

J-channels are mounted at the top and bottom on the panel. The EPS is mechanically fastened through the metal decking, and then the basecoat, mesh and finish are installed on top of that. A stiffener angle is installed as needed.

Fastening Features
Metal pan systems are a benefit on projects because they can be installed over solid or irregular substrates. Installers can use an assortment of attachment types including blind connections and clips if they're installing over a solid substrate.

The metal pan system might also provide faster installation on your project. They don't require double caulking at the joints — and because of the metallic back on the fastener, moisture intrusion won't damage the substrate.


3. Structural Panel Systems
A structural panel system features full steel stud composite panels. This versatile, heavy-duty system adds insulation, a weather barrier and, if desired, drainage detailing.

A structural panel system also provides full structural capabilities for the exterior cladding, window systems and other accessories. The system is ideal for new construction and renovation projects and is perfect for tight job sites that don't allow for much equipment and scaffolding.

The structural panel system includes a light gauge steel stud frame or in some cases a structural tube frame to manage excessive loads and offer extra strength to your design.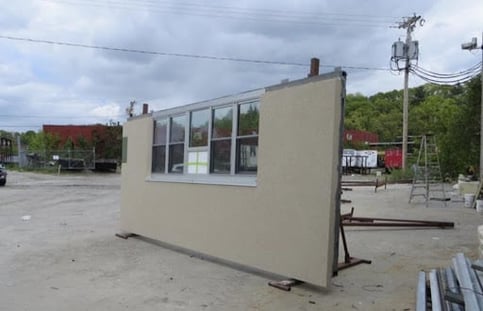 Prefabrication Process
Frames may be fabricated in several ways: The most common method fabricators use is welding; some mechanically fasten with screws, while others use automated machinery to install rivets, thus speeding up the process. The panel fabricator's engineer determines framing member type, design and size along with attachment design, depending on local building code requirements.

After the frames are done, the sheathing is fastened to the frame. An air moisture barrier is either sprayed, rolled, or trowel applied. Liquid flashings are used at the perimeters and fenestrations to ensure that it's watertight. EPS normally is then adhered to the sheathing substrate. After the EPS is placed, the panels are detailed out by rasping, putting in any reveals, squaring everything up, and making sure that the panel design is correct.

Like the other types, structural panels offer customizable design options, as well, since EPS panels can be cut and fabricated in any style or pattern. A variety of finishes and colors are available to complete any building aesthetic.

Fastening Features
These systems usually weigh around 8 to 10 pounds a square foot — it's no wonder they're considered the workhorse of EIFS panel options. The panels can be very large — typically 8 to 12 feet by 20 to 30 feet, but sometimes larger — so they require a crane for installation.

A crew will install somewhere in the vicinity of 8 to 15 panels a day, which is considerably more production than a venue would get with field application. The larger the panel, the better because the faster you're closing your building. With structural EIFS panels, the deflection requirement is typically L/240 after the system is installed.

Attachment to the building structure for these panels is done in accordance with approved shop drawings. As stated previously, this is typically determined by the project engineer, based on building design and code requirements.


Reliable Products and Partners on Your Project
EIFS panels can be designed to meet the aesthetic and structural demands of any commercial project. Whether you want a lightweight option for easy mounting; cladding for a metal frame building; or a structural option for a project with heavy loads needing extra strength, panelized exterior insulated finishing systems deliver factory-controlled assurance and faster installation than traditional methods. And when you work with the right manufacturer, you'll find a high-performance system that's within the budget and design for your project. Need on-site support along the way? We'll work with you from design to fabrication to installation.