When products leave the Acrytec Panel Industries facility in Ontario, Canada, they leave in perfect condition. To Acrytec customers, this means more than just individual panels that meet ASTM specifications. Acrytec provides a rainscreen system that is visually perfect, down to the controlled joints between the panels.
The goal is to provide the highest quality rainscreen systems in the industry that will also ensure a trouble-free, efficient installation, eliminating the need for additional trades and having to re-mobilize the building.
The Acrytec glass fiber-reinforced concrete panel systems historically have used silicone sealants in their multitude of joints to provide long-term durability and water resistance.
The quality of the finished look, however, was dependent on the skill and attentiveness of the sealant applicator. If the edges of the panel got smeared with sealant, the customer would typically request that the panel be replaced or not want to pay for the job so Acrytec began investigating another alternative to enable them to offer a foolproof system.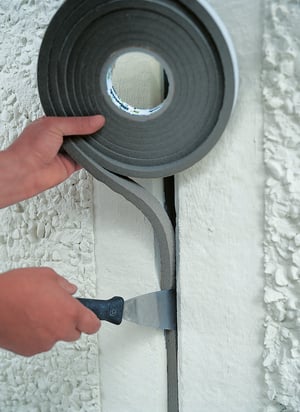 Tremco's illmod 600® pre-compressed, self-expanding, flexible, polyurethane joint sealant provided the answer. Designed to seal against wind-driven rain, sound, draft and dirt, it is an exterior and interior seal impregnated with a flame-retardant, modified acrylic resin and treated with a pressure-sensitive adhesive on one side for easy installation.
After positioning, the material self-expands to fill the void and create a permanently elastic, weather tight seal. When used in the Acrytec system, as the panels are installed, illmod 600 is laid on top of the panel and compressed tighter than normal. With a joint gap size selected equal to the panel depth, it forms a perfect gasket-like edge. Installation is simplified and expedited, long-term maintenance is minimized and durability is enhanced.
But appearance and ease of installation are only part of the requirements in an Acrytec system. To ensure the ultimate in performance from its products, Acrytec puts its products and systems through some of the most aggressive testing possible.
During positive and negative wind load testing, cycles are increased beyond standard requirements to push their systems to failure.
Accelerated laboratory testing is done through independent third-party testing facilities to certify outstanding weather performance for the architects and engineers as well as provide documentation for accreditation from the National Research Council of Canada.
When evaluating the illmod 600, panels were sent to the Tremco Sustainable Building Solutions Test Facility for assembly of a 4' x 6' test unit with illmod 600 installed between the panels.
Testing was conducted and verified by Architectural Testing, Inc. for air infiltration at a pressure difference of 75 Pascals (1.57 psf) and then for water penetration resistance at a pressure difference of 750 Pascals (15.7 psf):
ASTM E283 – Standard Test Method for Determining Rate of Air Leakage Through Exterior Windows, Curtain Walls, and Doors Under Specified Pressure Differences Across the Specimen. (Air leakage was 0.006 cfm/ft² @ 75 Pa -- below the Air Barrier Association of America requirement of 0.04 cfm/ft² or less.)
ASTM E331 – Standard Test Method for Water Penetration of Exterior Windows, Skylights, Doors, and Curtain Walls by Uniform Static Air Pressure Difference. (No water penetration.)
This testing provides documentation that Acrytec's rainscreen panel system has undergone third-party testing and verification by a nationally accredited and recognized test laboratory and conforms to national, international, or other applicable standards.
Test reports have been provided to the Canadian Construction Materials Centre (CCMC), which operates within the National Research Council of Canada. CCMC offers a national evaluation service for all types of innovative building construction materials, products, systems and services based on the requirements of the National Building Code of Canada or Provincial/Territorial Building Codes.

According to Rick Buna, president of Acrytec Panel Industries, the Acrytec rainscreen systems have been designed and tested for maximum water drainage and evaporation. "We have enlarged 25mm channels and vented panels with a self-sealing membrane on back to provide added protection from screw holes. Our systems even allow horizontal air flow for maximum ventilation of the air space, rapid condensation and moisture drainage to eliminate the potential for any absorption, and evaporation."
The addition of the illmod 600 to the systems offered adds another dimension to the advanced and efficient design. Based on results of the testing, these rainscreen systems are being incorporated in projects ranging from 32-story buildings to institutional buildings such as schools.