In food and beverage facilities as well as kitchens, it is imperative to protect the end products from bacteria, viruses, parasites, and chemicals that could harm consumers. In addition to proper cleaning and preventative cross-contamination processes, the flooring material of the facility itself plays a role in food safety and the spread of dangerous microbes.

Food-Borne Germs
According to the Center for Disease Control (CDC), approximately 48 million Americans get sick every year from foodborne diseases. The most common germs that cause food poisoning include Salmonella, E. coli, norovirus, and Staphylococcus aureus. While most infected people only experience mild symptoms such as nausea, fever, stomach pain, vomiting, and diarrhea, food poisoning can lead to hospitalizations and even death.


How Flooring Impacts Bacteria Growth
The floors of food industry facilities inevitably face regular spills, impact from dropped items, and traffic from people, forklifts, and/or pallet trucks, all of which have high potential for transmitting unwanted germs and toxic substances.

Repeated exposure to corrosive chemicals and daily wear-and-tear can quickly degrade low-quality flooring and those technologies not made to withstand such abuse. They can also be difficult to clean and serve as a breeding ground for harmful bacteria, which can lead to incidental food contact.

These challenges will result in ongoing repairs and maintenance of the floors, plus the risk to public safety which could cost your organization its reputation, not to mention significant dollars.

In 2020, the US Department of Justice reported that after a foodborne illness outbreak sickened over 1,100 people, Chipotle Mexican Grill Inc. agreed to pay $25 million, the largest-ever fine in a food-safety case. These expenses are no small matter.


Antibacterial Flooring Solutions
To reduce the threat of contamination, some protective floor coatings feature innate antimicrobial properties to kill bacteria in between washes. For example, Tremco CPG's TREMFloor Urethane Cement System has Polygiene® technology, which emits powerful silver ions that attack germs on the floor's surface and prevent future growth of bacteria and molds.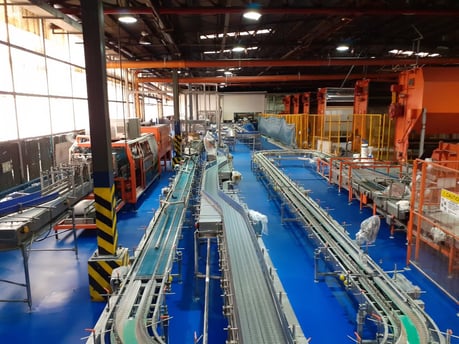 These floors also offer chemical resistance to the fats, acids, and proteins common in food and beverage production, guarding against the surface degradation and odors caused by microorganisms to ensure the maximum service life of your system. They can withstand exhaustive cleaning protocols and be easily degreased to create a sanitary working environment, provide a non-slip, hygienic surface for employees, and protect the end users from infections.
Tremco CPG's flooring systems meet the ISO 22916 standard "for measuring the antibacterial activity of antibacterial-treated plastics and other non-porous surfaces of products," and are certified by Hazard Analysis and Critical Control Point (HACCP) International, which confirms a product's ability to support food safety. This endorsement is especially important for those materials and equipment common in food manufacturing, handling and supply.


Flooring for Food Safety
While flooring is not the only factor responsible for food safety, it is a key component of food and beverage facilities that is susceptible to bacteria growth and contamination. Choosing a durable, antibacterial flooring system, combined with the proper drainage and cleaning regimen, will minimize the spread of dangerous food-borne illnesses and protect both employees and customers.

For more tips on selecting a flooring system, view the blog post 7 Considerations for Selecting a New Resinous Flooring System.