While concrete, hardwood, or tile flooring may be standard in many areas of a building, resin-based systems offer significant durability, health, and safety benefits for applications in commercial kitchens, food and beverage facilities, hospitals, and pharmaceutical and electronic environments.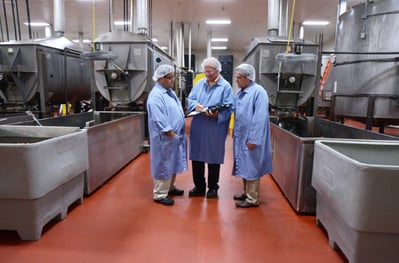 When selecting a resinous flooring product, review the following considerations that may be necessary to meet all your facility's short-term and long-term needs:
Slip-Resistance
Indoor air quality (IAQ)
Durability
Temperature range
Microbial resistance
Chemical resistance
Aesthetics


Slip-Resistance
For areas with regular pedestrian traffic, slip-resistance is critical for life safety and can be achieved on flat and sloped surfaces with textured profiles to minimize the risk of falls.


Indoor air quality (IAQ)

Some flooring options may emit VOCs (volatile organic components) during application, which can be disruptive and/or dangerous to occupants if not properly vented. Review the product details provided by the manufacturers to understand what you can expect from your chosen system in terms of any emissions or impact on the surrounding air quality.


Durability
You want your flooring to last without worrying about fixing dents, cracks, or large areas of damage. Look for durable flooring systems that can withstand the everyday realities of your facility such as impact from falling objects or frequent tire traffic from golf carts, forklifts, and other vehicles.


Temperature Range
Be sure to understand the anticipated temperatures of the areas where your new flooring solution will be placed. If you want a seamless solution across multiple rooms, consider products that can tolerate a large temperature range to span areas such as freezers, conditioned research laboratories, warehouses, and cooking areas.



Microbial resistance
Traditional flooring can hold onto bacteria, fungi, and mold even after cleaning. In areas where hygienic conditions are a necessity, review products with antimicrobial properties to reduce the opportunity for contamination and enhance protection from surface degradation. Look for flooring products that have been HACCP international certified and tested to ISO 22196.


Chemical resistance
In facilities with anticipated spills of chemicals, hot oils, or other corrosive ingredients, flooring should be selected that is tested to withstand this exposure without staining or damage.


Aesthetics
Of course, the look of your flooring is a huge factor in your decision-making process. Many flooring manufacturers offer a wide range of colors, aggregates, and even custom combinations.


Selecting the Best Commercial Flooring Product
When deciding on the best resinous flooring solution, look for products that offer the slip resistance, indoor air quality, durability, temperature range, chemical resistance, microbial resistance, and aesthetics necessary for your specific application to ensure long-term performance of the system and safety to your employees and occupants.