For building connections that require a durable, long-lasting and flexible joint sealant, the limitations in older technologies can present problems for architects, contractors and consultants.

So what does the ideal sealant look like?
How to Avoid Sealant Risks and Limitations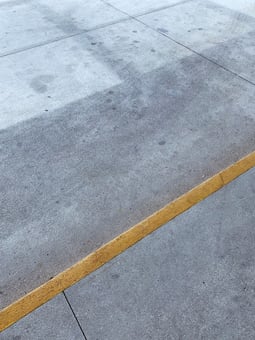 Expansion and control joints, building foundations and precast concrete applications all require a durable sealant. Regardless of the type of sealant you work with, whether it's foam, silicone or a hybrid, an improper application can spell disaster.
Traditional sealant systems have offered solutions for years, but they all have limitations that can be frustrating for everyone involved in the project. Understanding the pros and cons of sealant systems will give you an edge and help you complete projects in a timely and cost-efficient way without rework or callbacks.
First, we'll go over the limitations of the more traditional systems available. Then, we'll look into newer technologies available in hybrid systems, which can not only accomplish the task of sealing the joints, but also provide additional benefits such as extra insulation, smoke or fire protection, reduced labor time and more.


Sealer and Backer Rod System Limitations
One of the most common sealants for small pavement joints is a sealant and backer rod system. While affordable, it can come with a few setbacks, starting with installation.
Precise installation is a must — the system requires proper (if not perfect) installation. Many times, the mistakes are found in the small installation details. To avoid this, ensure everything is done correctly.


For instance, if the backer rod itself is placed too deep or you have too much sealant in place, you'll have issues with the bond line which can cause a lack of breathability and end in failure.


If the backer rod is placed too close to the surface, you may have cohesive failure. This mode of failure is when the sealant bead itself splits apart, which can occur when there's not enough material to span the gap or when the selected product cannot adequately absorb the joint's movement.


Prior to adhesive and cohesive tensile stresses on the joint, the sealant itself can fail during the curing process, especially if the gap is over one inch. If there is too much rapid thermal movement or too much sun on the sealant while curing, you'll end up with irregularities during the cure. The sealant can skin over on the outside, resulting in solvents being trapped inside instead of aspirating out naturally. The end result is a sealant that never cures properly from within.


The system's performance deteriorates over time after exposure to the elements, such as high temperatures, too much moisture and UV.
If the backer rod and sealant system fails, the joint may be left entirely exposed with nothing to protect the cavity from moisture and air infiltration.


Strip Seal Limitations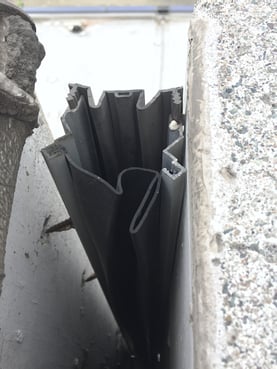 Vertical and horizontal strip sealant systems provide a connection between concrete slab sections (often on roads). To install, a single elastomeric neoprene rubber strip is secured to the adjacent sections on either side of the gap. There are a few drawbacks to this system, however.
The anchors and inside corner conditions can greatly increase both installation time and frustration.


Inside corners are nearly impossible. On a small joint, especially, you can't get a hammer or drill around the sealant to drill a hole and anchor the system.


There are cases where you cannot anchor, such as when you need to connect to another building and can't get permission from that building owner.


These systems can damage any surrounding substrate by introducing cracks and possibly creating a fault line. For instance, over time, the plasticizers migrate out of the glands, so when the system retracts, it can pull the anchors right out of the concrete, resulting in costly repairs.


It's not watertight, and it requires a water management system, especially for horizontal strip seals which need to be tied into your drainage system.


They are subject to vandalism.


Vertical strip seals typically do not complete the necessary components of an approved fire rating system.


Gland and Nosing System Limitations
A gland and nosing system presents plenty of opportunity for a project to go awry and requires additional preparation because of block-outs in the application.
Curing time can take hours, and when working on a horizontal strip system, you it can be slower to reopen to traffic to avoid damaging the system.


Installation errors are common, especially if the block-outs are incorrectly sized or you have various elevations from slab to slab. Plus, installation requires welding at joints and transitions, which is difficult to get straight and time-consuming. Therefore, you need skilled and experienced labor in order to ensure a correct installation.

If it goes bad or is installed incorrectly, it's costly to repair, and you'll have to pull up and redo 10 feet at a time.


Mineral Wool and Intumescent Sealants Limitations
These systems add insulation and sound attenuation properties to applications, but can come with setbacks:
The application is often inconsistent because the mineral wool has to be packed by hand, which also means the depth of intumescent sealant can vary.


This system is installed separately from a surface expansion joint system, which can make it difficult to inspect and repair.


This system does not handle today's movement demands and can fail if the building shifts due to thermal expansion or tensile stress.
Thankfully, sealant technology has evolved to consumer demand for higher-performing options that aren't as reliant on skilled labor. These solutions can help builders and architects protect the performance of their project long after installation, and come with additional benefits for the project without additional time or dollar costs.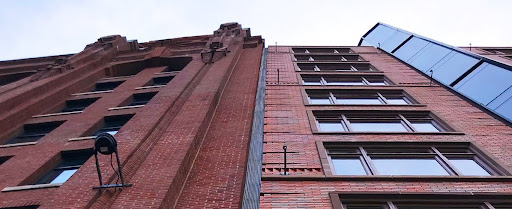 Solutions for Sealants: The Hybrid System
While there's no such thing as a 'perfect' sealant, a hybrid sealant system can deliver several benefits to your project when compared to standard options. And today's sealant technology eliminates common failures that you run into with traditional methods.

Hybrid systems rely on simplified and noninvasive installation, greater flexibility and don't rely on bond line adhesion. While they can be applied wherever a standard sealant goes, hybrid sealant technology helps to eliminate installation hiccups and offer valuable alternatives to traditional sealant methods.

Among many advantages to opting for a hybrid solution is their weather resistance, temperature durability, permanent flexibility and eco-friendly qualities.
A Smarter Sealant Base
Hybrid systems usually start with a pre-compressed foam core, which eliminates many common failures. Because it is precompressed, it's always expanding, resulting in no cohesive forces on the sealant. There's no tension in the middle of the foam and it can conform to fill gaps as thermal cycling and tensile stresses are placed on the joint.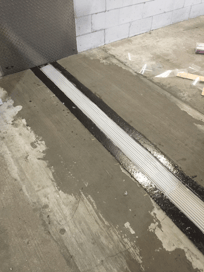 Because it doesn't rely on a bond line, you don't have to worry about adhesive failure. Using a pre-compressed foam base lets you install quickly with noninvasive measures anywhere you need to, including inside corners, head of walls, wall to wall joints, floor to wall joints, floor to floor joints and stairs joints, all with no drilling, no screws and no anchors needed.

Once you have a pre-compressed foam base, you can add different components to the system to get a hybrid sealant system that has all the benefits you need.


Systems With Integrated Continuous Membrane
These next generation hybrid systems include a 100% bonded continuous membrane that is bonded into the below-grade waterproofing membrane. This offers added protection to your application and forms a continuous barrier, with no invasive anchoring.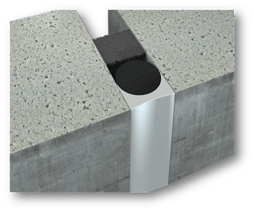 Reinforced Hybrid Systems
These integrated systems include a reinforcing membrane that provides extra surface load transfer capabilities to your application, dramatically increasing Initial Force Deflection (IFD) capabilities and sustained loading, common in pedestrian-trafficked applications. The reinforced system utilizes noninvasive anchoring and can accommodate rapid movement, great for use on parking decks with steady vehicular traffic and heavily trafficked pedestrian areas.




Systems With Integral Seals/Barriers
These hybrid systems offer a selection of different seals/barriers for an integrated and permanently bonded membrane. These seals/barriers are utilized in application with requirements related to:
The foam also provides a noninvasive alternative to other products, while delivering continuity of R-value and strong STC/OITC values to your project.


Before Specifying, Ask About…
Before you specify a hybrid system, you should ask about:
Fire retardancy
UV stability (especially important if you are using an uncoated system)
R-value
STC rating


Long-Term, Code-Compliant Sealant Solutions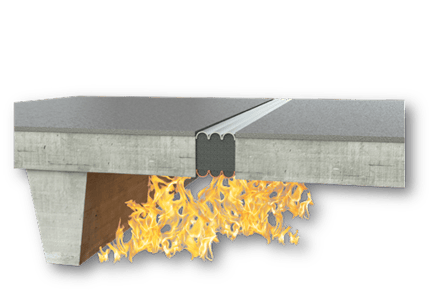 A hybrid sealant system solves the common challenges associated with traditionally-used sealants. Whether you're building a commercial structure, road or parking deck, hybrid sealants offer:
High STC/OITC ratings
Sound, draft and dust-blocking filler for interior joints
Improved R-value
Increased fire safety
Resistance to hurricane-force winds
Easy match to surrounding colors
Easier installation
Low maintenance
Low repair costs

Tremco Sealants helps contractors, designers and architects with reliable solutions for connections and joints, including expansion and control joints, precast concrete panel joints, perimeter caulking, EIFS and more.
Learn more about maintaining proper sealant joints to protect the integrity of your project or click here to find the best sealant for your project.